| | |
| --- | --- |
| | "The Strongest Rivals" is now on! |
Story Event is now on! Collect Awakening Medals in the event to Dokkan Awaken Coora!
Mon 12/31/2018 10:30 pm PST

Story

Frieza's brother Coora shows up!
Knowing Frieza was defeated by a Super Saiyan on Planet Namek, Coora appears with overwhelming power before Goku and the Z Fighters to reclaim his family's honor!
In front of the dominating power of Coora, Goku breaks his limit...!

Event Details

Collect Awakening Medals obtained from the event to Dokkan Awaken [Coldhearted Invasion] Coora into [Overwhelming Fear] Coora (Final Form)!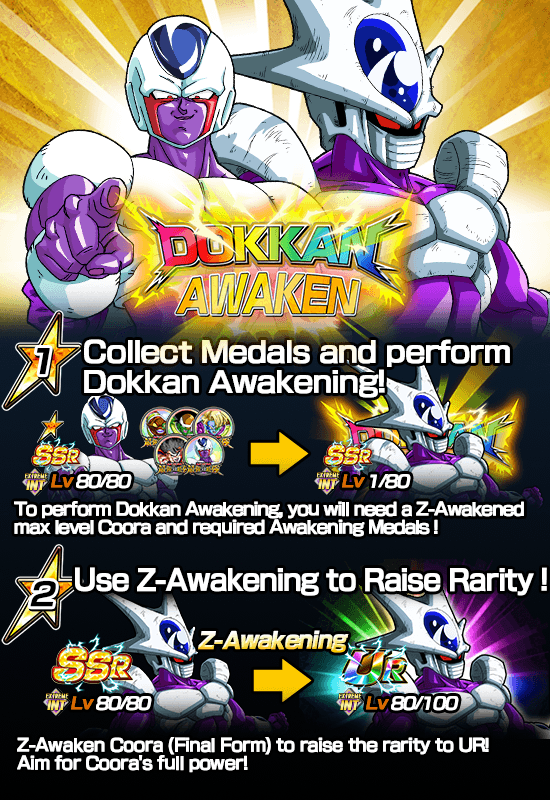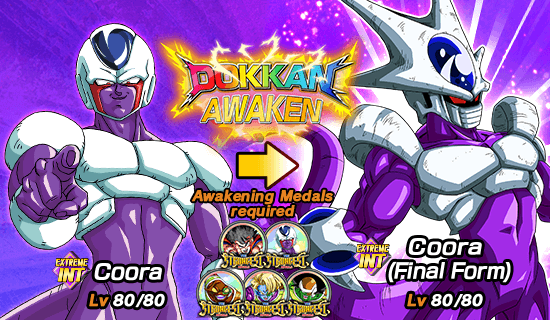 Event Information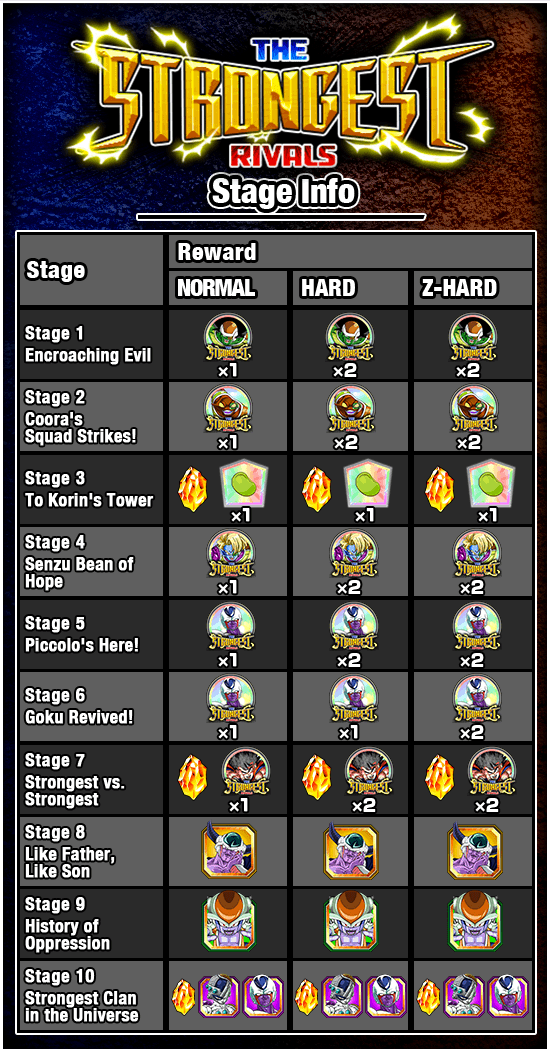 * The items listed beside Stage 1 to Stage 7 are rewards of clearing the stages for the first time.
Re-clear the stages for a chance to get rewards that are not on the list.
* There are chances to recruit "King Cold", "Chilled", "Mecha Frieza" and "Coora" from Stage 8 to Stage 10 on the list upon defeating the boss of each stage.
* In addition, there are chances to get Awakening Medal "Goku" upon defeating the boss in Stage 8 on any difficulty and Stage 9 on Z-HARD.

Other Rewards

One Dragon Stone will be rewarded for clearing each difficulty on Stage 3, Stage 7 and Stage 10.
(9 Dragon Stones are available in total.)
* Obtaining Dragon Stones as a clear reward can only be done once.
On top of that, there are "Special Missions" available in this event!
Complete the Special Missions to get awesome rewards!
* Please go to the "Special Mission" page for more information about the rewards.
* Please claim the rewards by 2019/1/22 (Tue) 21:59 PST.
* "Special Missions" will not be displayed if they have been completed in the past.

Event Period

2018/12/31 (Mon) 22:30 ~ 2019/1/15 (Tue) 21:59 PST
* Caution: Event Times in Dokkan Battle are listed in Pacific Standard Time (PST) instead of Pacific Daylight Time (PDT).
* Please note that the event content and dates are subject to change without prior warning.
We hope you continue to enjoy playing Dragon Ball Z Dokkan Battle!