| | |
| --- | --- |
| | Friend Summon Reinforced! |
Trade Hercule Statues for huge amounts of Zeni! The Earth's savior Hercule arrives!
View Summon
Fri 03/11/2016 12:28 am PST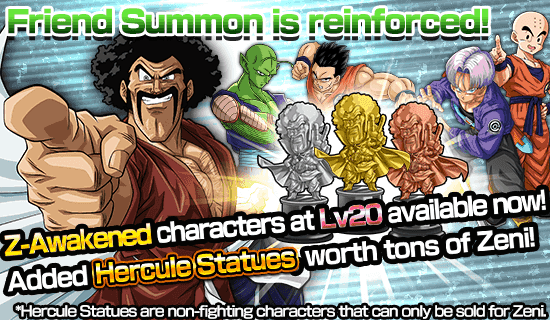 New Character
[Earth's Savior] Hercule has joined the fray with the Link Skill "Golden Z-Fighter"!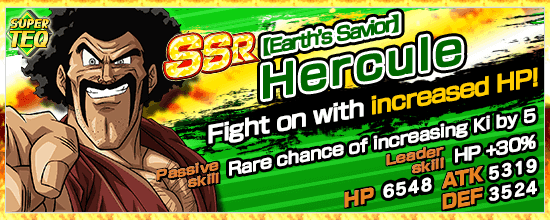 Link Skill "Golden Z-Fighter" : Ki + 2 *The following characters can activate "Golden Z-Fighter": [Future Hope] Trunks (Teen) [Divine Wisdom] Piccolo [Beyond Limits] Tien [Earth's Savior] Hercule More characters will be able to activate this Link Skill in the future.
Update Information
- The Character List has been updated! - One Z-Awakened character at Lv20 or one Hercule Statue is guaranteed per Multi-Summon! *Friend Points are required in performing a Friend Summon. *You will earn Friend Points by selecting a friend to join your team and clearing stages in Quests, weekly events, limited events, etc. *You can tap the Character List on the top-left corner of the Summon page to check the complete list of available characters. * Please be aware that the Character List is subject to change without prior warning. *If you choose the same character as your Training Partner, your Super Attack Lv. will increase and your Super Attacks will be powered up! We hope you continue to enjoy playing Dragon Ball Z Dokkan Battle!