| | |
| --- | --- |
| | The Genius Bulma's Battle Prep! |
Challenge the corresponding difficulty to acquire the items you need!
View Event
Mon 03/08/2021 10:30 pm PST

Event Period

3/8 (Mon) 22:30 ~ 3/18 (Thu) 21:59 PST
* Caution: Event Times in Dokkan Battle are listed in Pacific Standard Time (PST) instead of Pacific Daylight Time (PDT).
Obtainable only in certain events, rare Support Items such as "Frog" and "Russian Roulette Takoyaki" are now available in this event!
Collect capsules on the map to obtain a large amount of Support Items!
Event Details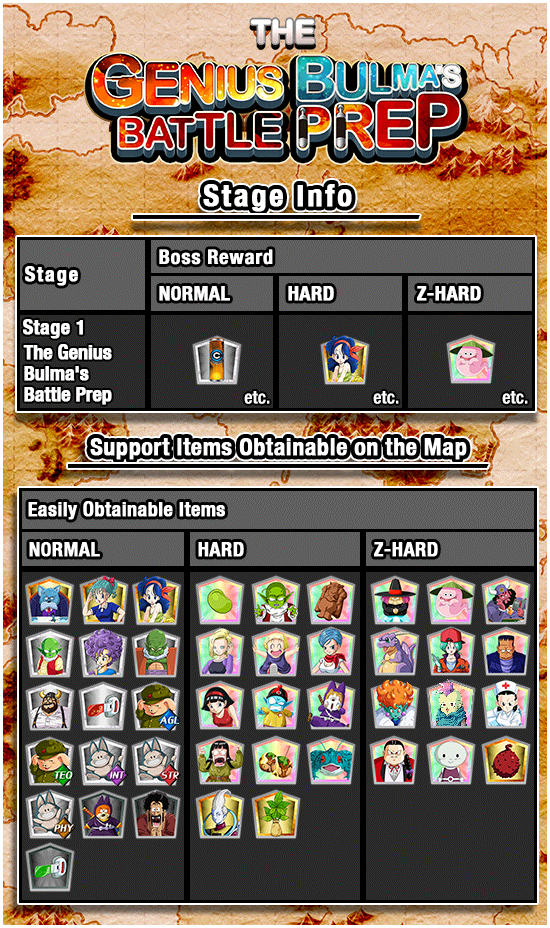 * Items listed under "Support Items Obtainable on the Map" can be obtained on all difficulties. For example, there will also be a low chance of obtaining "Baba" on NORMAL.
In this event, lots of capsules that contain Support Items will appear on the map! The easily obtainable items of each difficulty differ. Take on the corresponding difficulty to acquire the items you need!
Other Rewards

One Dragon Stone will be rewarded for clearing all difficulties. (Only one Dragon Stone is available in total.)
* Obtaining Dragon Stones as a clear reward can only be done once.
* Please note that the event content and dates are subject to change without prior warning.
We hope you continue to enjoy playing Dragon Ball Z Dokkan Battle!