| | |
| --- | --- |
| | Super Saiyan 2 Carnival Starts! |
Mighty golden warriors are here! One Super Saiyan guaranteed per Multi-Summon!
View Summon
Fri 07/01/2016 11:30 pm PDT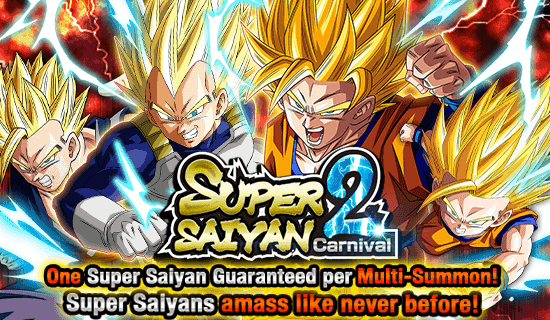 The Super Saiyan 2 Carnival starts now! The mighty golden warriors are amassing here, including Super Saiyan 2 Goku! On top of that, one Super Saiyan is guaranteed per Multi-Summon! Discount Summon! During the event, you can perform a Single-Summon with only 3 Dragon Stones! Only once a day! Summon Super Saiyan 2 warriors to join your team right now! *The discount Summon will be reset daily at 22:00 PST during the event. *The once-a-day discount Summon page will be displayed individually. *The available Super Saiyans from Multi-Summons are listed in the Character List in the top left corner of the Summon page. The available Super Saiyans are the ones with "Super Saiyan" in their names and the ones listed below. [Pure Confidence] Super Vegeta [Surging Spirit] Super Trunks [Swelling Power] Super Trunks [A Warrior Obsessed] Majin Vegeta
Event Period
7/1 (Fri) 22:30 ~ 7/7(Thu) 21:59 PST *Caution: Event Times in Dokkan Battle are listed as Pacific Standard Time (PST) and not Pacific Daylight Time (PDT). *The Summon rate for each character is different. *You can tap the Character List in the top-left corner of the Summon page to check the complete list of available characters. *If you choose the same character as your Training Partner, your Super Attack Lv. will increase and your Super Attacks will be powered up! *Please note that the event content and dates are subject to change without prior warning. We hope you continue to enjoy playing Dragon Ball Z Dokkan Battle!