| | |
| --- | --- |
| | The Fusions Beyond Ultimate Are Here! |
"The Fusions Beyond Ultimate" Summon is now on! Take this chance to pick up astonishing fusion warriors!
View Summon
Thu 07/28/2016 11:32 pm PDT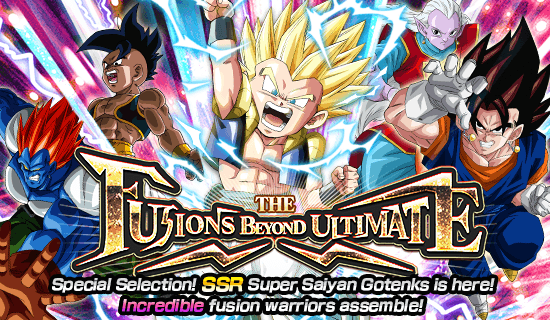 Dual-power fusions emerge! The extraordinary fusion warriors are amassing again! One SR or higher character GUARANTEED per Multi-Summon! Don't miss out on this awesome opportunity to add these extremely powerful characters to your team! Also, 3 Discount Summons are available in this Summon Event! ONLY 30 Dragon Stones required for a Multi-Summon! * The Discount Summon will be displayed separately in an individual Summon page. * The Discount Summon page will disappear after being performed 3 times.
Featured Characters
[Faith in Super Fusion] Super Saiyan Gotenks [SSR] PHY [Peerless Combination] Vegito [SSR] INT [Double the Power] Gotenks [SSR] AGL [The Miracle of Potara] Vegito [SSR] TEQ [Flouting Objectives] Fusion Android #13 [SSR] INT [Merging Destinies] Majuub [SSR] STR [Unforeseen Fusion] Kibito Kai [SR] PHY [Captured Wisdom] Majin Buu (Piccolo Absorbed) [SR] INT
Event Period
7/28 (Thu) 22:30 ~ 8/3 (Wed) 21:59 PST * Caution: Event Times in Dokkan Battle are listed as Pacific Standard Time (PST) and not Pacific Daylight Time (PDT). * The Summon rate for each character is different. * If you choose the same character as your Training Partner, your Super Attack Lv. will increase and your Super Attacks will be powered up! * Please note that the event content and dates are subject to change without prior warning. We hope you continue to enjoy playing Dragon Ball Z Dokkan Battle!