| | |
| --- | --- |
| | Limit Break Summon Is Now ON! |
Characters who can transcend the UR limit have arrived! Summon these warriors with super powerful potential!
View Summon
Tue 07/26/2016 02:00 am PDT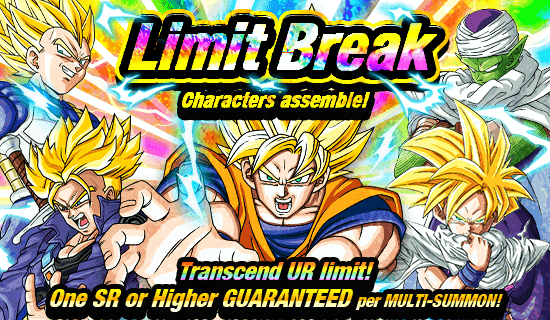 Come and get the warriors with super powerful potential! 5 characters that can be Dokkan Awakened to transcend the UR limit are here now! Collect the required Awakening Medals to Dokkan Awaken these 5 characters in the Limit Event "Hero Extermination Plan: Evil Powers Strike Back"! One SR or higher GUARANTEED per Multi-Summon! Don't miss out on this great opportunity to recruit these strong warriors!
Featured Characters
[Supreme Warrior Awakened] Super Saiyan Goku [SSR] AGL [Pride Regained] Super Saiyan Vegeta [SSR] TEQ [Namekian Rage] Piccolo [SSR] PHY [Successor of the Strongest] Super Saiyan Gohan (Youth) [SSR] INT [Super Saiyan from the Future] Super Saiyan Trunks (Teen) [SSR] INT * You can tap the Character List in the top-left corner of the Summon page to check the complete list of available characters. * Please note that the following characters are NOT available in this Summon Event. [The Roar of Death] Legendary Super Saiyan Broly [SSR] STR [Flare of Death] Perfect Cell [SSR] TEQ [Symbol of Death] Buu (Kid) [SSR] PHY [Stunning Metamorphosis] Super Saiyan 3 Goku [SSR] AGL [Almighty Fusion] Super Gogeta [SSR] STR [Wickedness Personified] Super Janemba [SSR] INT [Omen of Doom] Frieza (Full Power) [SSR] PHY
Event Period
7/25 (Mon) 22:30 ~ 8/5 (Fri) 21:59 PST * The Summon rate for each character is different. * If you choose the same character as your Training Partner, your Super Attack Lv. will increase and your Super Attacks will be powered up! * Please note that the event content and dates are subject to change without prior warning. We hope you continue to enjoy playing Dragon Ball Z Dokkan Battle!