| | |
| --- | --- |
| | New Quests RELEASED! |
"Chapter 3 - Part 1" New Quests are released! Try the new "Treasure" feature at Baba's Shop now!
Wed 08/17/2016 01:45 am PDT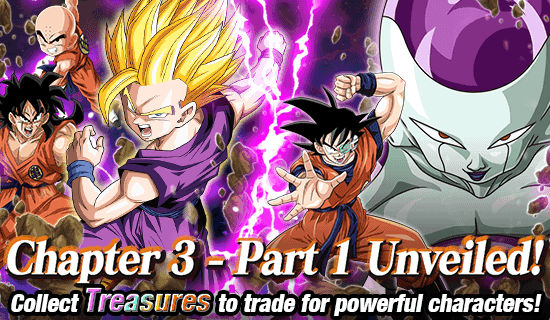 Come and join the new Quests! The story now progresses to Chapter 3 where the battles rage in the distorted dimension!
Story
Together, the fighters of justice took a stand to put an end to the crazy Dr. Gero's malicious scheme. However, the dimensional distortion seemed to continue, bringing never-before-seen chaos to the world. The inescapable archenemy, Frieza, will soon reveal the horror of his evil true nature. Don't miss out on the tense and action-packed Chapter 3! = Exchange Treasures at Baba's Shop = The new "Treasure" feature is now unlocked! You can find Treasures in the new Quests in Chapter 3! Collect Treasures from each stage of the new Quests, and exchange them for new characters, including [Flaring Rage] Super Saiyan 2 Gohan [Youth] [SSR]!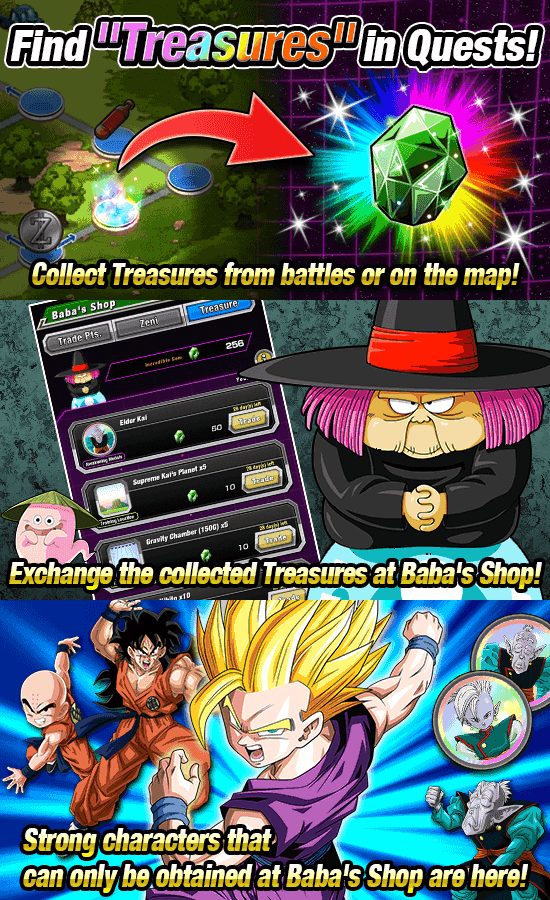 * You can check the information of obtainable characters and items on the "Treasure" page of Baba's Shop. * There are corresponding Treasure type and quantity requirements for each character and item that can be exchanged with Treasures. * Some characters and items that can be exchanged with Treasures are only available for a limited period. We hope you continue to enjoy playing Dragon Ball Z Dokkan Battle!