| | |
| --- | --- |
| | New Stage of "7th Universe's God of Destruction"! |
Confront the God of Destruction who possesses explosive power! Clear the event to obtain Awakening Medals!
View Event
Sun 06/07/2020 11:30 pm PDT

Universe 7's God of Destruction has awoken from his slumber in search of a powerful opponent!
Engage in a clash that will send a series of tremors throughout the universe!

Event Information

* Please tap the "Character" button to check the detailed character list.
* In Stage 2, the enemy characters possess a damage reduction skill in every phase starting from Phase 2. In Stage 3, the enemy characters possess a damage reduction skill in every phase.
= Pay Attention to the Fury Gauge! =
Beerus who appears in Phase 3 of Stage 3 will activate skills that nullify Super-Attack-sealing effects and stunning effects!
In addition, Beerus' Fury Gauge will increase whenever he receives damage from attacks such as Super Attacks! When the Fury Gauge is full, Beerus will become furious and activate a stats-boosting skill!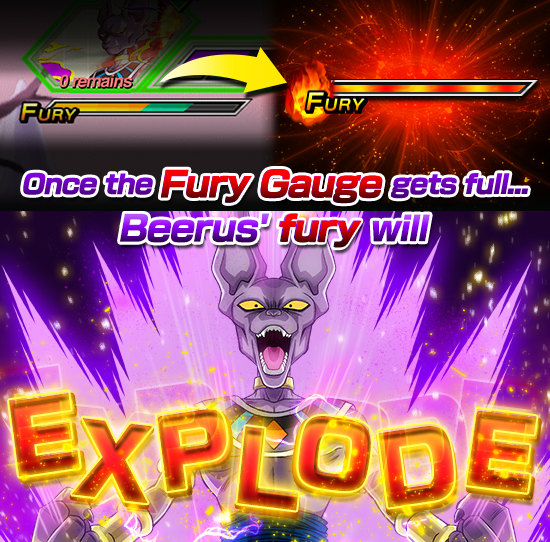 * When a turn ends, Beerus' fury will be slightly calmed and the Fury Gauge will also decrease.
* When Beerus' fury is over, he will enter an observing mode.
* Beerus will not attack when he is in the observing mode.
* After the observing mode is over, Beerus will return to normal.
* Beerus keeps the same HP bar during transitions between normal, furious and observing modes.

Boss Type Information

- Phase 1 Super INT Type Super STR Type
- Phase 2 Super INT Type
- Phase 3 Super STR Type (normal and observing mode) Super PHY Type (furious mode)
* The above is the Boss Type Information in Stage 3 "God of Destruction's Visit".
* Please note that the Awakening Medals obtainable in Stage 2 and Stage 3 are different.

Dokkan Awakening

[Premonition of a Great Fight] Beerus can be Dokkan Awakened with Awakening Medals obtained from Stage 3!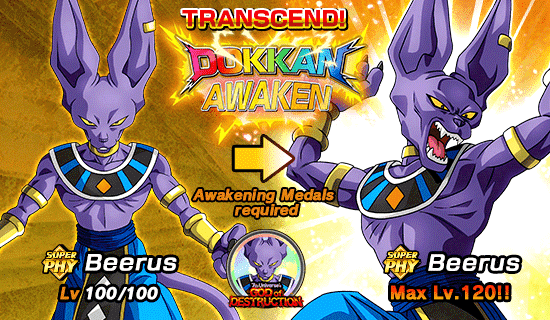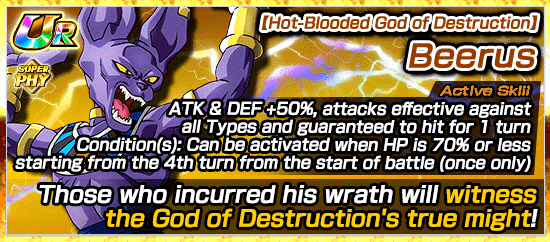 * The effect "attacks guaranteed to hit" allows characters to nullify enemy characters' evasion skills. This effect does not apply to enemies who nullify attacks by activating skills such as barriers.
[Godlike Skill] Whis can also be Dokkan Awakened!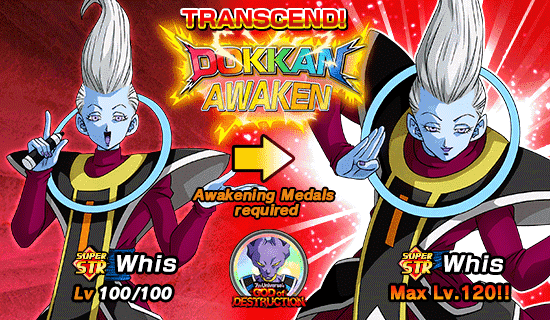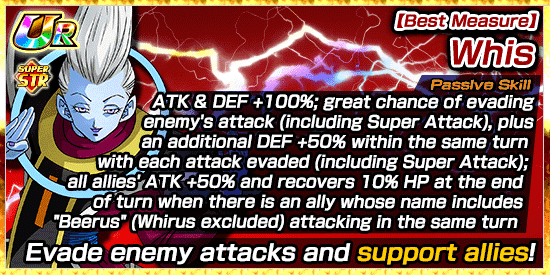 The following characters can be Dokkan Awakened with Awakening Medals obtained from Stage 2! - [State of God] Super Saiyan God Goku - [Impetuous God] Beerus - [Irreversible Judgement] Beerus - [Carnage Awakens] Beerus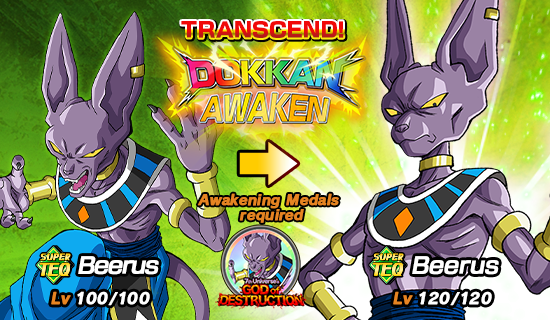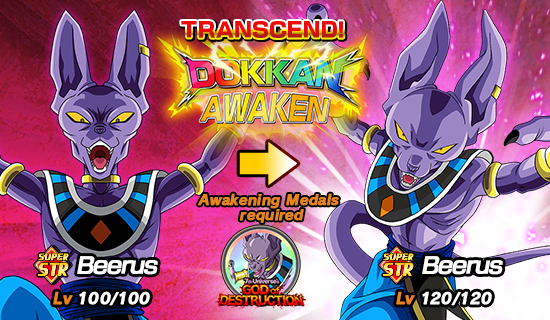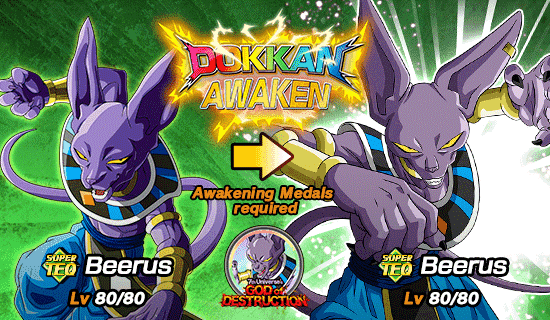 Other Rewards

One Dragon Stone will be rewarded for clearing each difficulty from Stage 1 to Stage 3. (6 Dragon Stones are available in total.)
* Obtaining Dragon Stones as a clear reward can only be done once.

Event Period

22:30 PST on Saturday ~ 22:29 PST on Sunday 22:30 PST on Monday ~ 22:29 PST on Tuesday 22:30 PST on Thursday ~ 22:29 PST on Friday
* Caution: Event Times in Dokkan Battle are listed in Pacific Standard Time (PST) instead of Pacific Daylight Time (PDT).
* During special campaigns, this event may be available outside of the time listed above.
* Please note that the event content and dates are subject to change without prior warning.
We hope you continue to enjoy playing Dragon Ball Z Dokkan Battle!