| | |
| --- | --- |
| | 100 Million DLs! Premium Summon! |
100 Million global downloads celebration! 3 times only! The Premium Summon that guarantees an SSR is on!
View Summon
Mon 10/24/2016 09:20 am PDT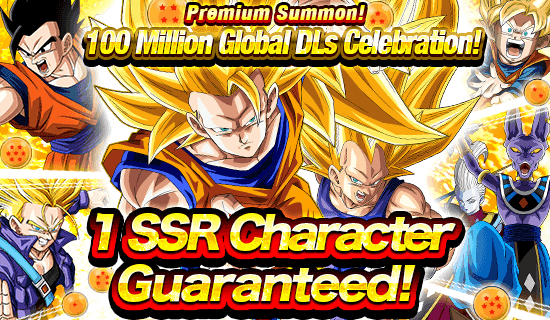 Dear Players, Dragon Ball Z Dokkan Battle has now reached 100 million global downloads! To show our appreciation for your awesome support and passion, we're launching this "Premium Summon" event where you are guaranteed to get one SSR character! 3 times only! One SSR character guaranteed per Multi-Summon! Grab this golden chance to recruit superior characters! * The characters exclusive in Dokkan Festival are not obtainable in this Premium Summon. * This Premium Summon is available for only 3 times, and it will not be displayed after being performed 3 times. * Only "Multi-Summon" is available in Premium Summon.
Featured Characters
[Limit-Breaking Elite] Super Saiyan 3 Vegeta [SSR]
[The Power to Shake the Universe] Super Saiyan 3 Goku [SSR]
[Frontline Fighter] Ultimate Gohan [SSR]
[Father's Pride] Super Saiyan Goku [SSR]
[Brother's Will] Super Saiyan Gohan (Teen) [SSR]
[Brother's Wish] Super Saiyan Goten (Kid) [SSR]
[A Meaningful Strike] Super Saiyan 2 Trunks (Teen) [SSR]
[Power Awakened] Ultimate Gohan [SSR]
[Enigmatic Power] Whis [SSR]
[Irreversible Judgement] Beerus [SSR]
[Origin of Despair] Buu (Kid) [SSR]
[Terror Perfected] Perfect Cell [SSR]
Event Period
2016/10/23 (Sun) 22:30 ~ 2016/12/31 (Sat) 21:59 PST * Caution: Event Times in Dokkan Battle are listed in Pacific Standard Time (PST) and not Pacific Daylight Time (PDT). * In addition to Featured Characters, the list of other obtainable characters has also been adjusted. Please tap the Character List in the top-left corner of the Summon page to check the complete list of available characters. * The Summon rate for each character is different. * If you choose the same character as your Training Partner, your Super Attack Lv. will increase and your Super Attack will be powered up! * Please note that the event content and dates are subject to change without prior warning. We hope you continue to enjoy playing Dragon Ball Z Dokkan Battle!