| | |
| --- | --- |
| | Rising Dragon Carnival Starts! |
Summon SSR Turles and Dokkan Awaken him into a transcended UR! Don't miss out on the doubled SSR summon rate!
View Summon
Mon 12/12/2016 01:00 am PST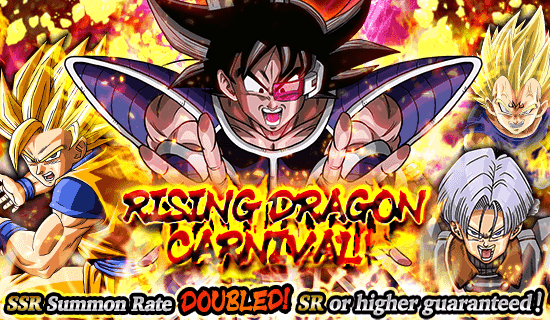 The Rising Dragon Carnival has started! SR or higher guaranteed per Summon! Also, the SSR Summon rate is doubled now! Take this golden chance to summon the superior SSR characters!
Featured Characters

[The Fearsome Tree of Might] Turles can now be Dokkan Awakened! To Dokkan Awaken him, you will have to collect the exclusive Awakening Medals which are obtainable from the Event listed below. - Warrior's Mark (Turles) * Clear Stage 11 "Blood of the Saiyan Race" of the Story Event "The Tree of Might" for a chance to get this Awakening Medal. * Please go to "Dokkan Awaken" in "Team Menu" to check the amounts and types of Awakening Medals required to perform the Dokkan Awakening. [Envoy from Beyond] Trunks (Xeno) [SSR]
[A Warrior Obsessed] Majin Vegeta [SSR]
[Supreme Warrior Awakened] Super Saiyan Goku [SSR]
[Unlimited Power] Super Saiyan 2 Goku [SSR]
[Successor of the Strongest] Super Saiyan Gohan (Youth) [SSR]
[Super Saiyan from the Future] Super Saiyan Trunks (Teen) [SSR]
[Pride Regained] Super Saiyan Vegeta [SSR]
[A Monster Unleashed] Majin Buu (Good) [SSR]
[Namekian Rage] Piccolo [SSR]
Event Period
12/11 (Sun) 22:30 ~ 12/20 (Tue) 21:59 PST * Caution: Event Times in Dokkan Battle are listed in Pacific Standard Time (PST) instead of Pacific Daylight Time (PDT). * In addition to Featured Characters, the list of other obtainable characters has also been adjusted. Please tap the Character List in the top-left corner of the Summon page to check the complete list of available characters. * The Summon rate for each character is different. * If you choose the same character as your Training Partner, your Super Attack Lv. will increase and your Super Attack will be powered up! * Please note that the event content and dates are subject to change without prior warning. We hope you continue to enjoy playing Dragon Ball Z Dokkan Battle!