| | |
| --- | --- |
| | Giant Apes Arise! Turles' Invasion! |
Giant Ape characters are here! Turn into a Giant Ape and shake the earth!
View Summon
Thu 02/09/2017 12:00 am PST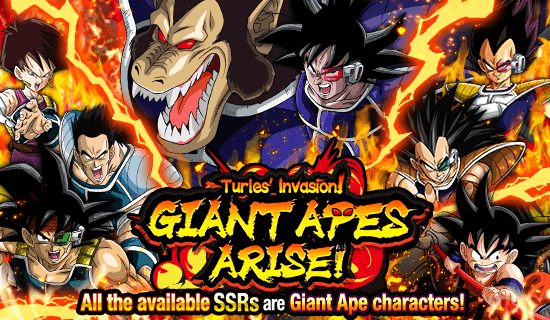 Turles is here to strike with his Giant Ape Transformation skill!
Take advantage of the devastating power and the invincibility of Giant Ape to eliminate your opponents!
Also, there will be a 3-time-only SSR Guaranteed Summon added in this Summon Event!
One SSR Giant Ape character is guaranteed per Multi-Summon!
* SSR Guaranteed Summon is only available on Multi-Summon.
* The SSR characters available from Single Summon and Multi-Summon are all Giant Ape Characters!
* SSR Guaranteed Summon will be displayed separately in an individual Summon page.
* SSR Guaranteed Summon will not be displayed after being performed 3 times.

Featured Characters

[Frontline Battle] Bardock (Giant Ape) [SSR]
[Exquisite Assault] Fasha (Giant Ape) [SSR]
[Explicit Tactics] Tora (Giant Ape) [SSR]
[Warriors' Pride] Vegeta (Giant Ape) [SSR]
[Warrior Race's Backbone] Raditz (Giant Ape) [SSR]
[Savage Power] Goku (Youth) (Giant Ape) [SSR]
*For more information on Giant Ape Transformation, please go to "Help">"How to Play">"Battles">"Giant Ape Transformation".

Event Period

2/8 (Wed) 22:30 ~ 2/22 (Wed) 21:59 PST
* Caution: Event Times in Dokkan Battle are listed in Pacific Standard Time (PST) instead of Pacific Daylight Time (PDT).
* In addition to Featured Characters, the list of other obtainable characters has also been adjusted. Please tap the Character List in the top-left corner of the Summon page to check the complete list of available characters.
* The Summon rate for each character is different.
* If you choose the same character as your Training Partner, your Super Attack Lv. will increase and your Super Attack will be powered up!
* Please note that the event content and dates are subject to change without prior warning.
We hope you continue to enjoy playing Dragon Ball Z Dokkan Battle!