| | |
| --- | --- |
| | AGL Hidden Potential Event Starts! |
AGL Hidden Potential Event is now on! Awake the latent power of AGL characters with Potential Orbs!
View Event
Sun 03/30/2014 01:59 am PDT

AGL Hidden Potential Event is now on!
Collect AGL Potential Orbs to strengthen AGL characters at will!

Requirements

Fulfill the following two requirements to join the event.
- Reaching Player Rank 50
- Clearing Stage 2 "Super Saiyan Goku" of the Event "An Epic Showdown" on Z-HARD.

Event Details

Come collect Potential Orbs!
Take down the following characters to get different sizes of Potential Orbs accordingly!
Cell (1st Form): Potential Orb (L) Android #18: Potential Orb (M) Android #17: Potential Orb (S)
Take advantage of the Link Skill!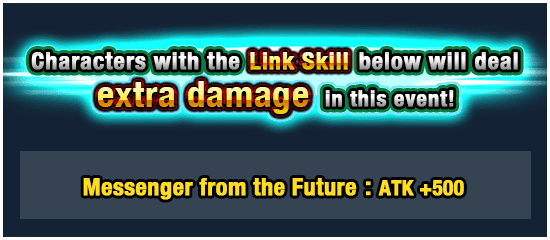 Prevail in the battle with the help of the Link Skill!
* The event bosses Cell (1st Form), Android #18 and Android #17 can only be defeated with a Super Attack.
* The extra damage effect of the Link Skill "Messenger from the Future" only works against event bosses.
* The Link Skill that has the extra effect in each Hidden Potential Event is different.

Other Rewards

One Dragon Stone will be rewarded for clearing the stage. (1 Dragon Stone is available in total.)
* Obtaining Dragon Stones as a clear reward can only be done once.

Event Period

16:00 on Sunday to 15:59 on Monday (PST) 16:00 on Friday to 15:59 on Sunday (PST)
Caution: Event Times in Dokkan Battle are listed in Pacific Standard Time (PST) instead of Pacific Daylight Time (PDT).
* The Type of obtainable Potential Orbs varies according to the Potential Event Type. * Please note that the event content and dates are subject to change without prior warning. We hope you continue to enjoy playing Dragon Ball Z Dokkan Battle!