| | |
| --- | --- |
| | A New Game Released!? |
A new game that will amaze the whole world has just started up! With the best soil, raise your Saibaimen and make it to the top of the world!
Sat 04/01/2017 01:00 am PDT

To thank you all for your passionate Support, Dragon Ball Z Dokkan Battle is going to release another breath-taking game on 4/1 PST. That is, "Saibai Battle"!
In this game, players will be able to raise the strongest Saibaimen in the universe!
We hope you will enjoy every moment in "Saibai Battle"!
= What's "Saibai Battle"? =
The ultimate goal in this game is to raise your very own Saibaimen to prevail in the battle!
Newly born Saibaimen will evolve into a variety of breeds according to the way you raise them!
Just experiment different methods to see if you can grow a Saibaiman that can surpass God's existence!
= Prepare for a Newborn! =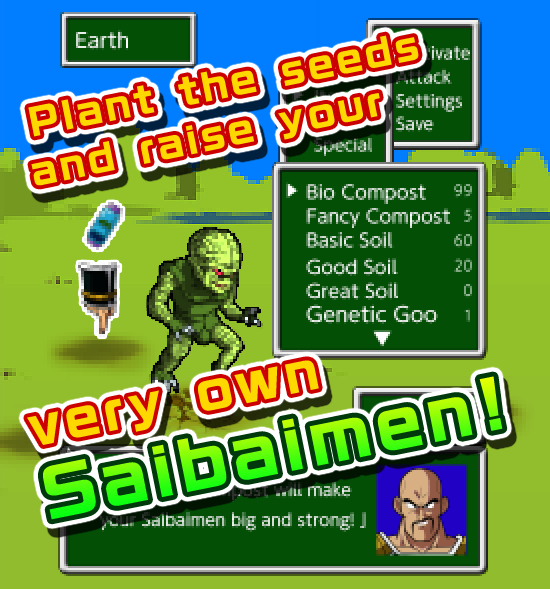 - The choice of soil
The best Saibaimen come from the best soil!
Therefore, when it comes to your choice of soil, the competition has already started!
Earth is such a beautiful place without natural enemies against Saibaimen. It will be the best choice for beginners to start a career as a Saibaiman farmer!
- The birth of Saibaimen
Once you decide the soil, then it's time to plant the seeds!
Without your love and patience, Saibaimen will still grow anyway, but it will be nice to provide them with a bit of fertilizer and nice soil!
Once you hear the sound "Geeeee", it means your Saibaiman is just born!
Welcome your own Saibaimen with all your love and passion!
- Doctor Nappa
Despite his mean look, bad temper and vicious tongue, Doctor Nappa's knowledge in raising Saibaimen is unquestionable!
So, if you're not too busy, pay some attention to him and listen to his advice!
= Raise Your Saibaimen! =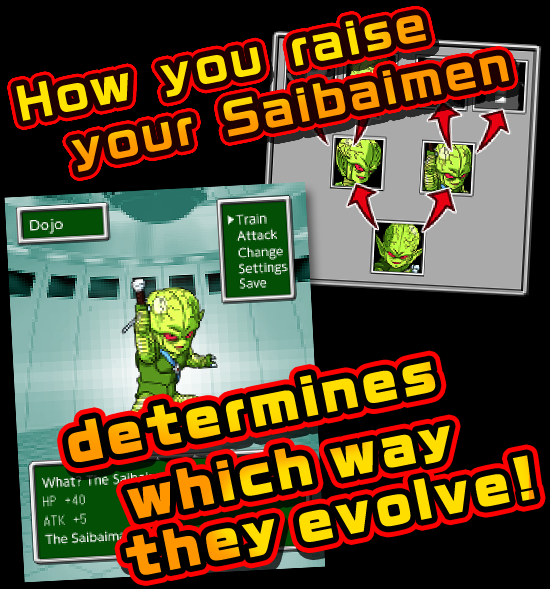 - Cultivation
Once born, Saibaimen will have the power to compete with Raditz and the likes of him. However, such power won't be enough to secure their survival in future battles.
To make them stronger, you can equip them with weapons, teach them martial arts or just give them some tough trainings!
As long as you pour enough love and patience, you will have a chance to get grateful Saibaimen who are willing to perform a self-destruct to sacrifice for you!
Come on now and try different methods to raise them!
- Evolution
Saibaimen can adapt themselves to various environments through evolution!
Their appearance may not change much after the evolution, but their power will be tremendously elevated to another level!
On top of that, there's even possibility to produce rare breeds of Saibaimen, which may come in blue, grey or pink!
Move towards becoming a professional of raising Saibaimen!

Put Saibaimen on a Fight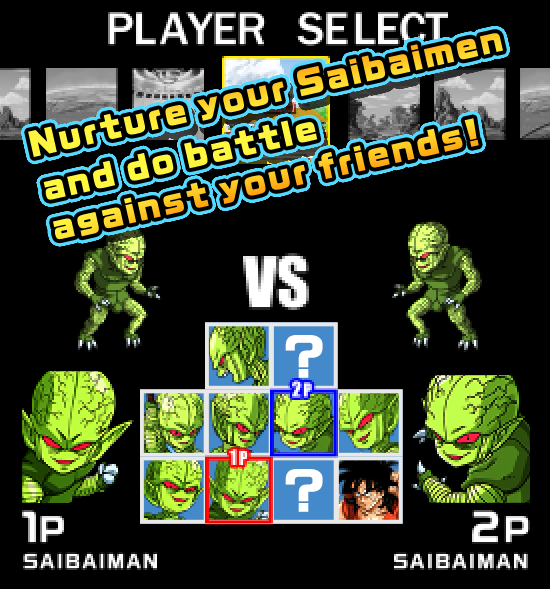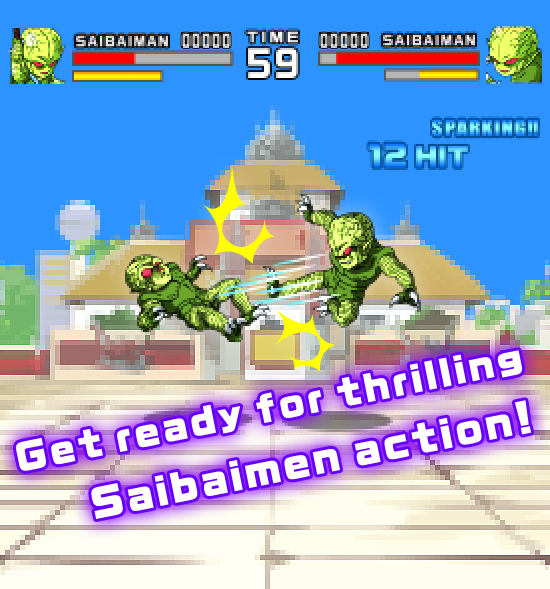 - Battle
Once you think that your Saibaimen are ready to battle, you can put them on a fight against those of your friends!
The way you raise those Saibaimen and the amount of love you give them will decide how hard they will fight!
They would probably follow your order if you give them the command, "Hey Saibaiman, shoot Kemehameha!"
Never mind even if you lose the battle. Just relax, and keep raising them!

Rewards

Whether you win or lose, the beautiful memories you share with your Saibaimen will always last. That's all it matters!
Now you must be quite familiar with this game and what it is about.
If not, why not try for yourselves!
* The content above is totally made up and we greatly appreciate your patience and understanding.
Happy April Fools' Day!
We hope you continue to enjoy playing Dragon Ball Z Dokkan Battle!