| | |
| --- | --- |
| | New Stage of "Dokkan Event Boss Rush" Available! |
Added Stage 6! Take on the powerful opponents and fight for honor!
View Event
Fri 09/12/2014 10:00 pm PDT

Fight formidable foes in ceaseless fierce battles!
Claim victory to get tons of Dragon Stones!

Event Information

Stage 6 on SUPER 3 difficulty is now available!
Tough enemies will show up!
Stage Details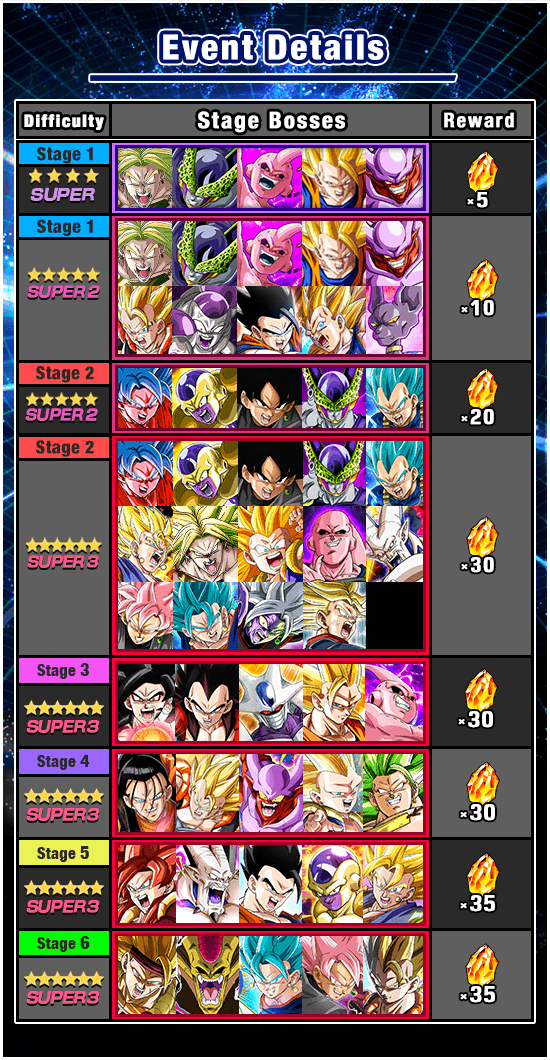 This event requires no STA!
What's more! This event will always stay open! Take on this challenge whenever you're ready!
Defeat all enemies and make your way to the top!
* The Dragon Stones rewarded after the stage is cleared will not be distributed directly upon stage clear. Please go to "Special Missions" to collect them.
* There is no time limit to collect the mission rewards.
* Please go to "Special Missions" for more details on the mission rewards.
* "Continue" is not allowed in all the stages on all difficulties.
* For the information on any particular boss, please refer to the corresponding Dokkan Event announcement.

Event Period

Stage 6 available from 21:00 PST on 9/12 (Wed)
* Caution: Event Times in Dokkan Battle are listed in Pacific Standard Time (PST) instead of Pacific Daylight Time (PDT).
* Please note that the event content and dates are subject to change without prior warning. We hope you continue to enjoy playing Dragon Ball Z Dokkan Battle!