| | |
| --- | --- |
| | "Unrivaled Ultimate Fusion" is on! |
A Dokkan Event is now on! Collect the Awakening Medals to Dokkan Awaken Super Saiyan 4 Gogeta!
View Event
Wed 12/10/2014 10:30 pm PST

I am neither Goku nor Vegeta... I am the one who will defeat you!
The two warriors ablaze will now unite their forces as one!
A Saiyan with ultimate power will soon be born!
An extremely challenging event is running now!

Event Details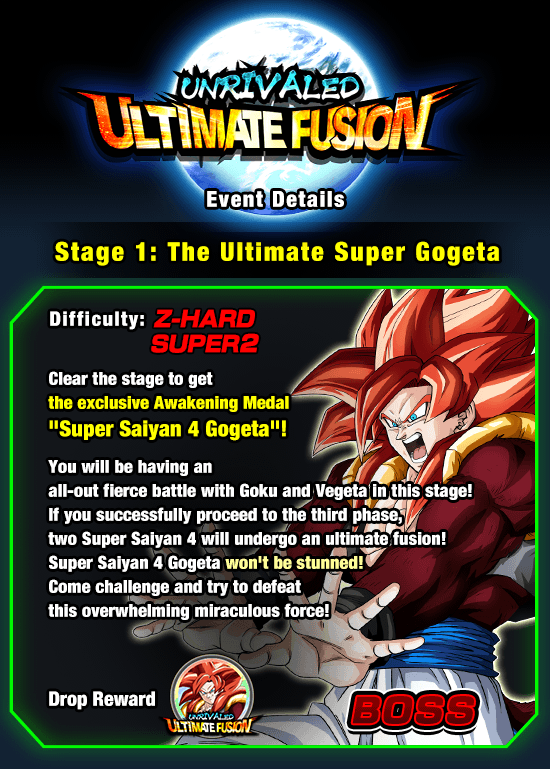 The Super Saiyan 4 Gogeta that appears at Phase 3 and Phase 4 won't be stunned! He is even equipped with a damage reduction skill!
Moreover, the Super Saiyan 4 Gogeta that appears at Phase 4 has a massive amount of HP and unparalleled power that deters enemies from advancing!
So far there's no existing skill that can nullify Super Saiyan 4 Gogeta's damage reduction skill.
Form a team with characters of high ATK and use Support Items to battle against Super Saiyan 4 Gogeta!

Boss Type Information

- Phase 1 Super STR Type
- Phase 2 Super AGL Type Super STR Type
- Phase 3 Super TEQ Type * "Z-HARD" difficulty will conclude at Phase 3.
- Phase 4 Super TEQ Type

Dokkan Awakening

[The Supreme Fusion] Super Saiyan 4 Gogeta obtained from "Dokkan Festival" can be Dokkan Awakened to transcend the UR limit, reaching the maximum level of 120!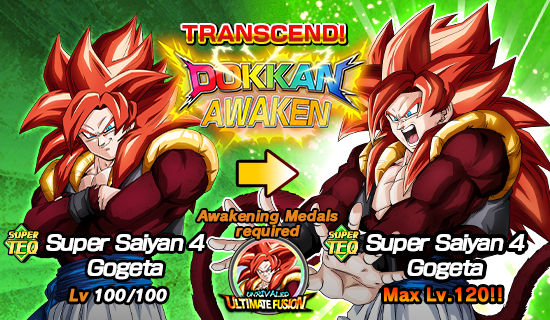 [Omens of Awakening] Super Saiyan 2 Goku (GT) from the Summon Events can also be Dokkan Awakened!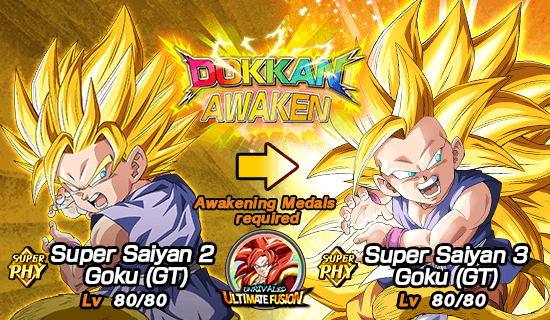 Other Rewards

One Dragon Stone will be rewarded for clearing each difficulty in Stage 1.
(2 Dragon Stones are available in total.)
* Obtaining Dragon Stones as a clear reward can only be done once.

Event Period

22:30 on Monday ~ 22:29 on Tuesday PST 22:30 on Saturday ~ 22:29 on Sunday PST
* Caution: Event Times in Dokkan Battle are listed in Pacific Standard Time (PST) instead of Pacific Daylight Time (PDT).
* During special campaigns, this event may be available outside of the time listed above.
* Please note that the event content and dates are subject to change without prior warning.
We hope you continue to enjoy playing Dragon Ball Z Dokkan Battle!