| | |
| --- | --- |
| | INT Character-Exclusive Summon! |
New SSR Vegeta and Gohan (Kid) are here! Get two extra Elder Kai by performing a Multi-Summon!
View Summon
Fri 09/29/2017 11:30 pm PDT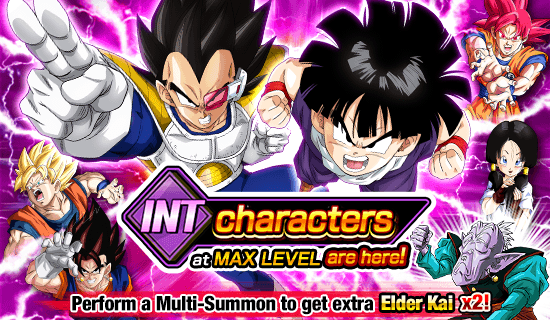 A perfect chance to recruit INT characters to your team!
In this Summon Event, all the available characters are of INT Type and at max level!
On top of that, a 3-time only Discount Summon is available in this event!
Only 40 Dragon Stones are required for a Multi-Summon!
* After you perform 3 times of Discount Summon which requires 40 Dragon Stones, the required amount of Dragon Stones for a Multi-Summon will change back to 50.
In addition, you will get two extra [Mysterious Ritual] Elder Kai by performing a Multi-Summon!
Selecting [Mysterious Ritual] Elder Kai as a Training Partner will guarantee the Super Attack to level up by 1!
* You will get extra [Mysterious Ritual] Elder Kai by performing a Multi-Summon.
* The Awakening Medal of Elder Kai will NOT be given as a gift along with a Multi-Summon.
* [Mysterious Ritual] Elder Kai will be given only along with a Multi-Summon.
* The bonus character along with the Multi-Summon of this event can be obtained repeatedly.

Featured INT Characters



[Ecstatic Combat] Super Saiyan Goku [SSR]
[Girlish Mystique] Videl [SSR]
[Peerless Combination] Vegito [SSR]
[Revenge Exacted] Super Baby 2 [SSR]
[Defying the All-Powerful] Super Saiyan Trunks (Kid) [SR]
[Captured Wisdom] Majin Buu (Piccolo) [SR]
[Coldhearted Invasion] Coora [SR]
In addition to the above featured characters, [Day of Destiny] Super Saiyan Gohan (Youth) [SSR] who can be awakened into an LR is also available in this Summon Event!

Event Period

9/29 (Fri) 22:30 ~ 10/18 (Wed) 21:59 PST
* Caution: Event Times in Dokkan Battle are listed in Pacific Standard Time (PST) instead of Pacific Daylight Time (PDT).
* The Summon rate for each character is different.
* You can tap the Character List in the top-left corner of the Summon page to check the complete list of available characters.
* If you choose the same character as your Training Partner, your Super Attack Lv. will increase and your Super Attack will be powered up!
* Please note that the event content and dates are subject to change without prior warning.
We hope you continue to enjoy playing Dragon Ball Z Dokkan Battle!