| | |
| --- | --- |
| | Dokkan Festival is now on! |
New SSR Super Saiyan 3 Broly arrives! Witness the strength of evolved incarnation of destruction!
View Summon
Tue 01/30/2018 11:10 pm PST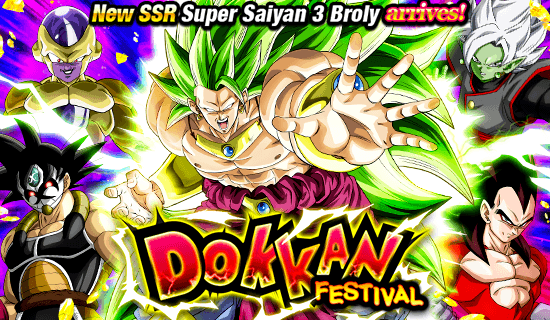 New SSR Super Saiyan 3 Broly!
Super Saiyan 3 Broly's Leader Skill can greatly raise the power of Extreme TEQ Type team!
Don't miss out the earth-shattering force of Super Saiyan 3 Broly!

Dokkan Festival-Exclusive Characters





* The above 5 characters are the festival-exclusive characters available in this Summon Event.
Other Dokkan Festival-exclusive characters will not be available in this event.
Please go to Character List to check the complete list of available characters.

Other Featured Characters


[First Step of the Plan] Hell Fighter #17 [SR]

Dokkan Awakening

[Super Evolution of Despair] Super Saiyan 3 Broly can be Dokkan Awakened with the exclusive Awakening Medals obtained from the Dokkan Event "Wreaking Havoc! Demon Over the Edge"!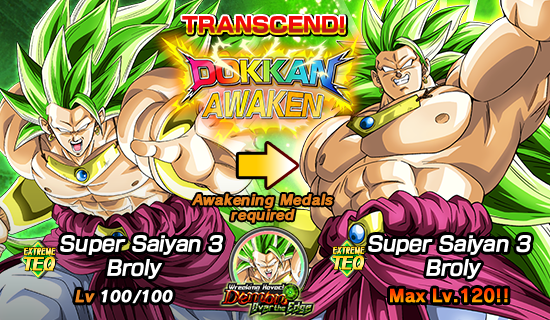 Event Period

1/30 (Tue) 22:30 ~ 2/18 (Sun) 21:59 PST
* Caution: Event Times in Dokkan Battle are listed in Pacific Standard Time (PST) instead of Pacific Daylight Time (PDT).
* In addition to Featured Characters, the list of other obtainable characters has also been adjusted. Please tap the Character List in the top-left corner of the Summon page to check the complete list of available characters.
* The Summon rate for each character is different.
* If you choose the same character as your Training Partner, your Super Attack Lv. will increase and your Super Attack will be powered up!
* Please note that the event content and dates are subject to change without prior warning!
We hope you continue to enjoy playing Dragon Ball Z Dokkan Battle!