| | |
| --- | --- |
| | "Tight-Knit Fusion! Super Warrioress" Summon! |
New powerful warrioress SSR Super Saiyan Kefla is here! One featured SSR guaranteed per Multi-Summon!
View Summon
Thu 03/01/2018 10:30 pm PST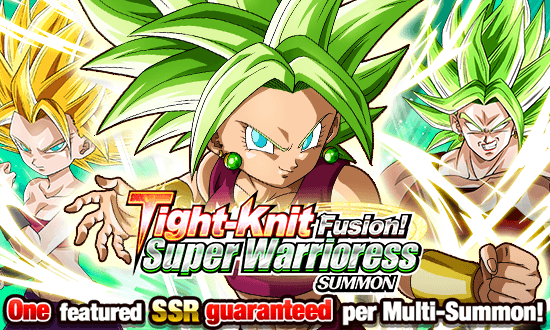 Through the Potara fusion... A new super warrioress is born! SSR Super Saiyan Kefla is here!
Super Saiyan Kefla can activate the following abilities with her Passive Skill: - boost stats with every PHY Ki Sphere obtained - medium chance to evade enemy's attack - launch an additional attack
In addition, perform a Multi-Summon to get one SSR Featured Character!
Don't miss out on the chance to summon the powerful fusion warrioress!

Featured Characters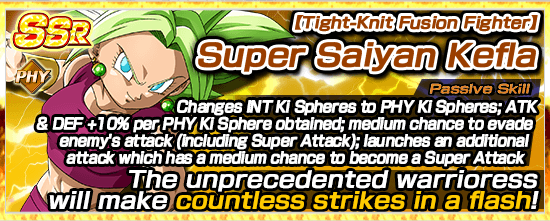 Other than the characters above, the following characters that can be awakened into an LR will also be available in this Summon Event! [A Destined Return] Broly [SSR] [Day of Destiny] Super Saiyan Gohan (Youth) [SSR] [Dark Desires Awoken] Majin Vegeta [SSR] [Dark Doctrines] Goku Black [SSR] [Mysterious Youth] Trunks (Teen) [SSR]
* The 5 characters above are not featured characters.

Event Period

3/1 (Thu) 22:30 ~ 3/18 (Sun) 21:59 PST
* Caution: Event Times in Dokkan Battle are listed in Pacific Standard Time (PST) instead of Pacific Daylight Time (PDT).
* If you cannot see "Category" in the game, try restarting the Application or tap on "Cache Clear" button on Title Screen.
* Characters that do not belong to any Category will also be available in this Summon.
* Please note that Categories are subject to be added or changed without prior notice.
* In addition to Featured Characters, the list of other obtainable characters has also been adjusted. Please tap the Character List in the top-left corner of the Summon page to check the complete list of available characters.
* The Summon rate for each character is different.
* If you choose the same character as your Training Partner, your Super Attack Lv. will increase and your Super Attack will be powered up!
* Please note that the event content and dates are subject to change without prior warning.
We hope you continue to enjoy playing Dragon Ball Z Dokkan Battle!