| | |
| --- | --- |
| | The Ultimate Pair (Present World)! |
Dokkan Event is now on! Collect the Awakening Medals to Dokkan Awaken Goku & Vegeta!
View Event
Thu 05/07/2020 11:30 pm PDT

The ultimate Potara Fusion between the strongest pair is about to start...!
Challenge the dominating power of Potara!
Event Information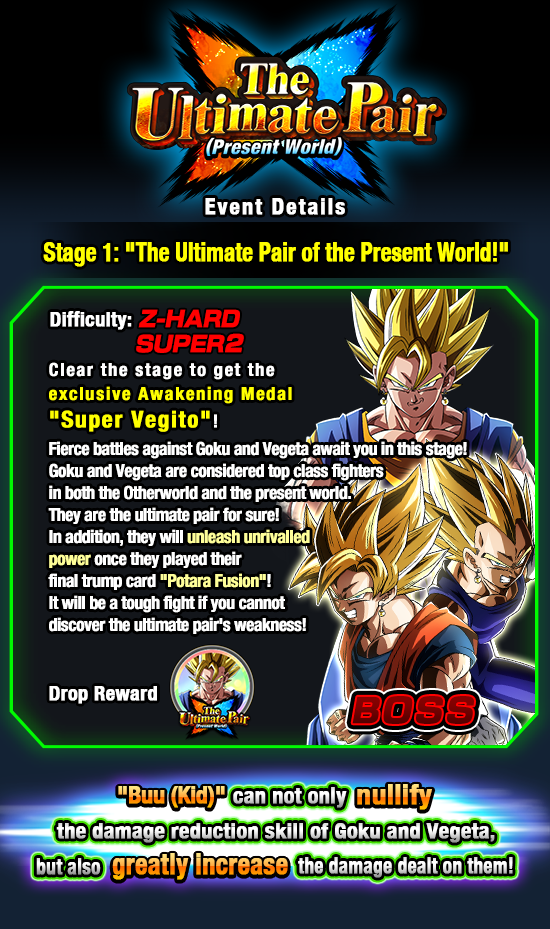 * Please tap the "Character" button to check the detailed character list.
"Goku & Vegeta" and "Super Saiyan Goku & Super Saiyan Vegeta" that show up in Phase 1 ~ Phase 3 both possess the damage reduction skill.
You can use "Buu (Kid)" to nullify their damage reduction skills!
In Phase 4, the duo will utilize the power of Potara to fuse into "Super Vegito"!
In addition to damage reduction, Super Vegito also possesses the following abilities: - Nullifies Super Attack sealing effect - Grants immunity to being stunned - Disables ATK & DEF reduction
What's more, the enemies in every Phase are all of INT Type! Challenge the event with PHY characters to gain the upper hand in battles!
* Buu (Kid) can only nullify the damage reduction skill of enemies from Phase 1 to Phase 3.

Boss Type Information

- Phase 1 Super INT Type
- Phase 2 Super INT Type
- Phase 3 Super INT Type * "Z-HARD" difficulty will conclude at Phase 3.
- Phase 4 Super INT Type

Dokkan Awakening

[Eternal Rivalry] Goku & Vegeta can be Dokkan Awakened to transcend the UR limit, reaching the maximum level of 120!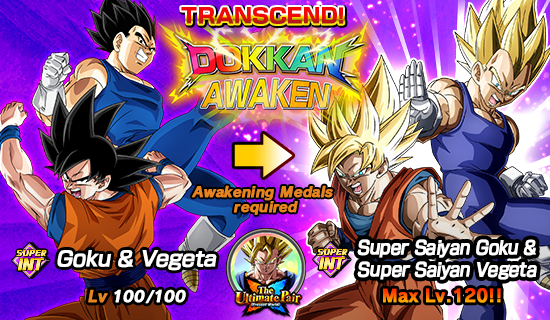 [Golden Pair] Super Saiyan Goku & Super Saiyan Vegeta can be Dokkan Awakened into an LR, reaching the maximum level of 150!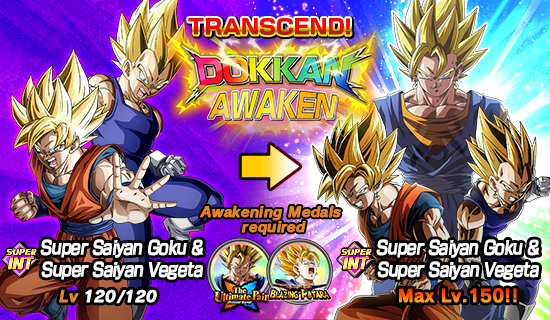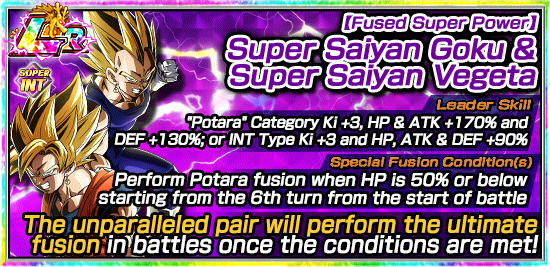 [Fused Super Power] Super Saiyan Goku & Super Saiyan Vegeta will perform Potara Fusion to transform into Super Vegito once conditions are met in the battles!

* Please note that the turns passed during Giant Ape Transformation will not be counted as the turn condition of Potara Fusion.

Link Skill after transforming
* Characters who can Transform (Fusion, Potara Fusion and so on) can still activate their Link Skills even if they transform into other characters who share the same name with neighboring characters of different second name.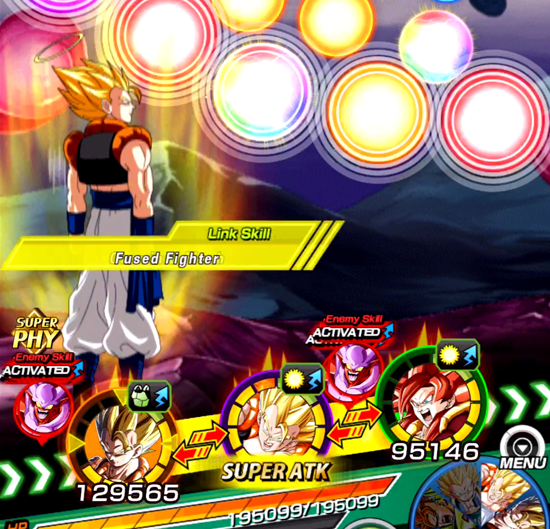 Other Rewards

One Dragon Stone will be rewarded for clearing each difficulty in Stage 1.
(2 Dragon Stones are available in total.)
* Obtaining Dragon Stones as a clear reward can only be done once.

Event Period

22:30 on Tuesday ~22:29 on Wednesday PST 22:30 on Saturday ~ 22:29 on Sunday PST
* Caution: Event Times in Dokkan Battle are listed in Pacific Standard Time (PST) instead of Pacific Daylight Time (PDT).
* During special campaigns, this event may be available outside of the time listed above.
* Please note that the event content and dates are subject to change without prior warning.
We hope you continue to enjoy playing Dragon Ball Z Dokkan Battle!