| | |
| --- | --- |
| | Legendary Summon is now on! |
The dual finally work together? Power up "Representatives of Universe 7" Category characters with their Leader Skill!
Thu 09/13/2018 06:40 pm PDT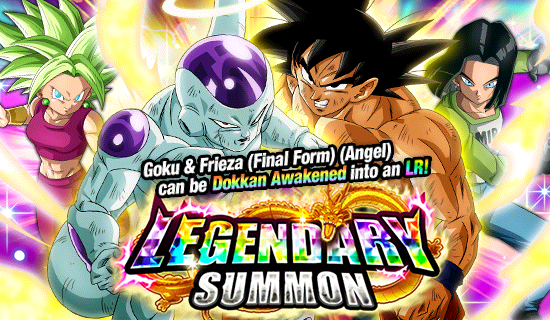 Goku & Frieza (Final Form) (Angel) that can be Dokkan Awakened into an LR blasts on to the scene!
Power up characters from the new Category "Representatives of Universe 7" with their Leader Skill and guide your team towards victory with the miraculously combined Passive Skill!

Featured Characters



[Love's Super Express] Ribrianne [SSR] [Super-Speed Warrior] Dyspo [SSR]
[Absolute Realm of God] Super Saiyan God Goku [SSR]
[Thirst for the Spotlight] Majin Buu (Shape-Up) [SSR]
[Warrior of Freedom] Toppo [SSR]
[Tight-Knit Fusion Fighter] Super Saiyan Kefla [SSR]
[Brilliant Battle Intuition] Super Saiyan 2 Caulifla [SSR]
[Perilous Potential Strength] Kale (Berserk) [SSR]
[Universe 6's Strongest Assassin] Hit [SSR]
The following characters that can be awakened into an LR will also be available in this Summon Event! [A Destined Return] Broly [SSR]
[Awakened God of Destruction] Beerus [SSR]
[Day of Destiny] Super Saiyan Gohan (Youth) [SSR]
[Resurrection from the Seal] Boujack [SSR] [Covert Masked Fighter] Mighty Mask [SSR] [Dark Desires Awoken] Majin Vegeta [SSR] [Quiet Grit] Goku [SSR] [The Ultimate Final Combo] Goku & Frieza (Final Form) (Angel) [SSR] [Dark Doctrines] Goku Black [SSR] [Mysterious Youth] Trunks (Teen) [SSR]
* Characters other than [The Ultimate Final Combo] Goku & Frieza (Final Form) (Angel) [SSR] are not featured characters.

Dokkan Awakening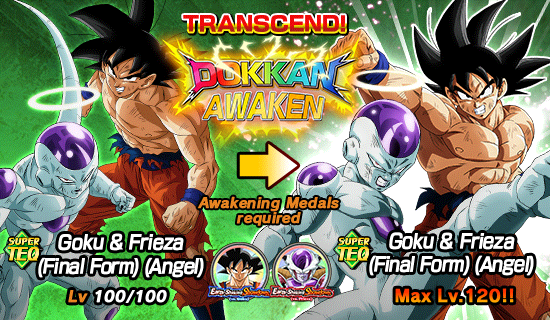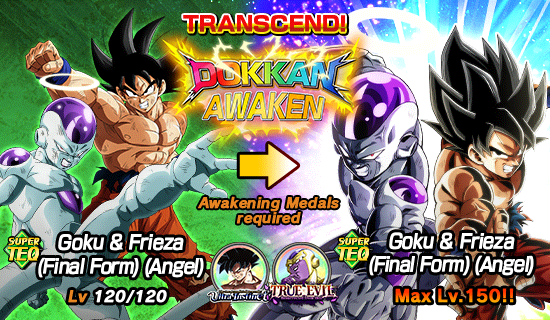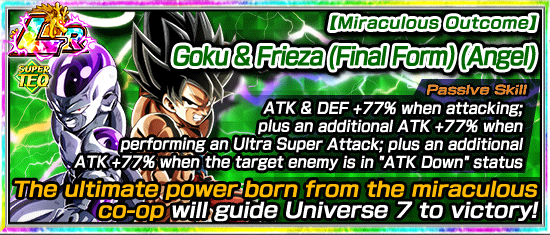 Event Period
9/13 (Thu) 17:40 ~ 10/3 (Wed) 23:59 PST
* Caution: Event Times in Dokkan Battle are listed in Pacific Standard Time (PST) instead of Pacific Daylight Time (PDT).
* Please navigate to the following path to check the characters you have obtained from the Summon Event: "Menu" --> "History" --> "Summon History".
* You can tap the "Character Summon Rates" in the top-left corner of the Summon page to check the complete list of available characters.
* If you cannot see "Category" in the game, try restarting the Application or tap on "Cache Clear" button on Title Screen.
* Please note that Categories are subject to be added or changed without prior notice.
* Please note that the event content and dates are subject to change without prior warning!
We hope you continue to enjoy playing Dragon Ball Z Dokkan Battle!