| | |
| --- | --- |
| | Ghostly Prank! |
Stage 2 is available! Dokkan Awaken Super Saiyan Gotenks & Ghost!
View Event
Wed 10/21/2020 10:00 pm PDT

Event Period

10/21 (Wed) 21:00 ~ 11/5 (Thu) 15:59 PST
* Caution: Event Times in Dokkan Battle are listed in Pacific Standard Time (PST) instead of Pacific Daylight Time (PDT).

Stage Details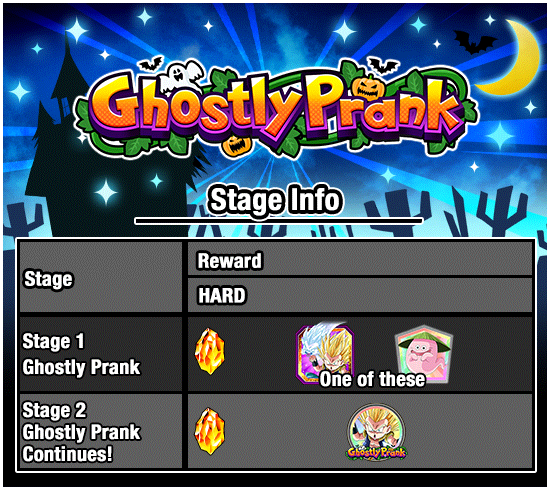 Event Details

Defeat Goku, Vegeta and Piccolo, the bosses of Stage 1, for a chance to recruit [An Absurd Plan] Super Saiyan Gotenks & Ghost!

Map

In Stage 1, you will be randomly taken to one of the three paths listed below when you land on a Flying Nimbus at the end of the first crossroads! - Path with Training Items - Path with Awakening Medals - Path without items
Give it a shot and guess which of the paths are the ones with Training Items or Awakening Medals!
There will also be Flying Nimbuses in Stage 2! Maybe they will take you to a path filled with Zeni or Training Items?!

Dokkan Awakening

[An Absurd Plan] Super Saiyan Gotenks & Ghost can be Dokkan Awakened with the Awakening Medals obtained from Stage 2!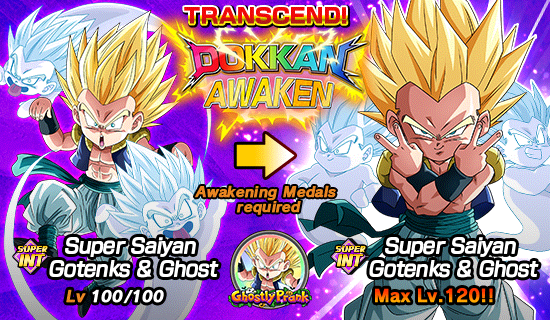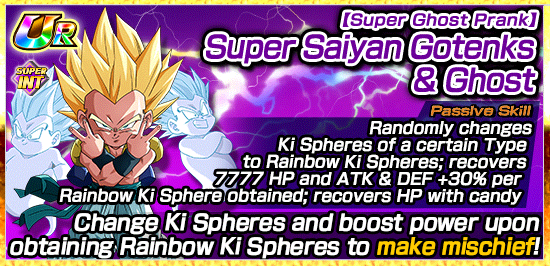 Other Rewards

One Dragon Stone will be rewarded for clearing each stage on HARD. (2 Dragon Stones are available in total.)
* Obtaining Dragon Stones as a clear reward can only be done once.

Missions

"Special Missions" are available in this event! Complete the missions to get rewards!
* Please go to the "Special Mission" page for more information about the rewards.
* Missions will not be displayed if they have been completed.
* Please note that the event content and dates are subject to change without prior warning.
We hope you continue to enjoy playing Dragon Ball Z Dokkan Battle!