| | |
| --- | --- |
| | SSR Summon Rate Doubled! Rising Dragon Carnival! |
SSR summon rate doubled! SR or higher guaranteed! Don't miss out on the SSR characters that possess the "Giant Ape" or "Giant Form" ability!
Thu 11/08/2018 12:40 am PST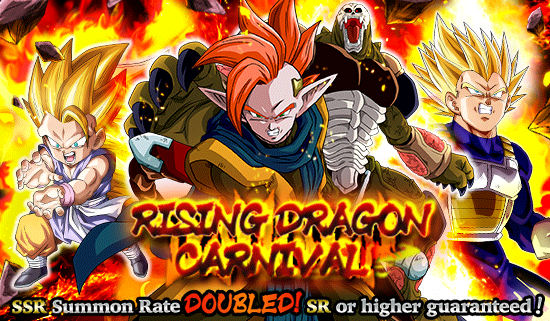 Rising Dragon Carnival!
SSR summon rate doubled! Get an SR or higher character per Summon! Grab the chance to summon powerful characters!

Featured Characters



[Ultimate Aspiration] Super Saiyan 3 Goku (GT) [SSR]
[Warriors' Pride] Vegeta (Giant Ape) [SSR]
[Savage Power] Goku (Youth) (Giant Ape) [SSR]
[Decadent Saiyans] Turles (Giant Ape) [SSR]
[Limitless Power] Bergamo (Giant Form) [SSR]
[Revenge Exacted] Super Baby 2 [SSR]
[Omens of Awakening] Super Saiyan 2 Goku (GT) [SR]
- The following characters that can be awakened into an LR will also be available in this Summon Event!
[A Destined Return] Broly [SSR] [Awakened God of Destruction] Beerus [SSR] [Day of Destiny] Super Saiyan Gohan (Youth) [SSR] [Resurrection from the Seal] Boujack [SSR] [Covert Masked Fighter] Mighty Mask [SSR] [Dark Desires Awoken] Majin Vegeta [SSR] [Quiet Grit] Goku [SSR] [The Ultimate Final Combo] Goku & Frieza (Final Form) (Angel) [SSR] [Dark Doctrines] Goku Black [SSR] [Mysterious Youth] Trunks (Teen) [SSR] [Bloodcurdling Message] Cell (Perfect Form) [SSR]
* The 11 characters above are not featured characters.

Event Period

11/7 (Wed) 22:30 ~ 11/21 (Wed) 21:59 PST
* Caution: Event Times in Dokkan Battle are listed in Pacific Standard Time (PST) instead of Pacific Daylight Time (PDT).
* Starting from this Summon event, [Intensified Ki] Super Saiyan 3 Vegeta and [Into the Fierce Battle] Super Saiyan 3 Vegeta (GT) will be of the "Pure Saiyans" Category.
* Please navigate to the following path to check the characters you have obtained from the Summon Event: "Menu" --> "History" --> "Summon History".
* You can tap the "Character Summon Rates" in the top-left corner of the Summon page to check the complete list of available characters.
* Please note that the event content and dates are subject to change without prior warning.
We hope you continue to enjoy playing Dragon Ball Z Dokkan Battle!