| | |
| --- | --- |
| | The Greatest Adversary of All! |
Secure victory in the fierce battle against Super Saiyan Broly! Take on the event to get the Awakening Medals required for Dokkan Awakening!
View Event
Thu 05/07/2020 11:30 pm PDT

The strongest Saiyan arrives! Secure victory in the epic battle!

Event Information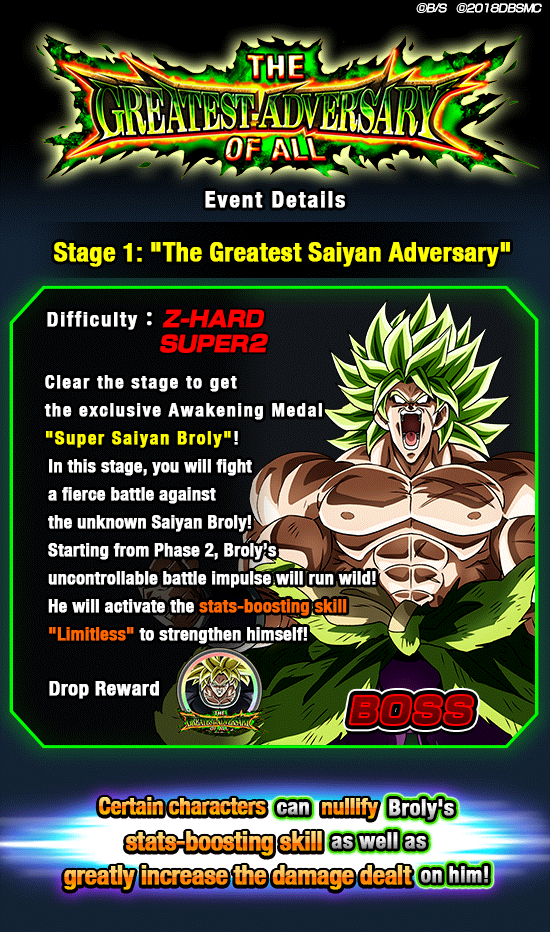 * Please tap the "Character" button to check the detailed character list.
Broly, Paragus and Super Saiyan Broly who appear as enemies in this event all possess damage reduction skill!
Include characters who can gain an advantage against these adversaries to your team and engage in battle!

Boss Type Information

- Phase 1 Extreme AGL Type Extreme INT Type
- Phase 2 Extreme AGL Type
- Phase 3 Extreme PHY Type * "Z-HARD" difficulty will conclude at Phase 3.
- Phase 4 Extreme PHY Type

Dokkan Awakening

[Wrathful Saiyan] Super Saiyan Broly can be Dokkan Awakened to transcend the UR limit, reaching the maximum level of 120!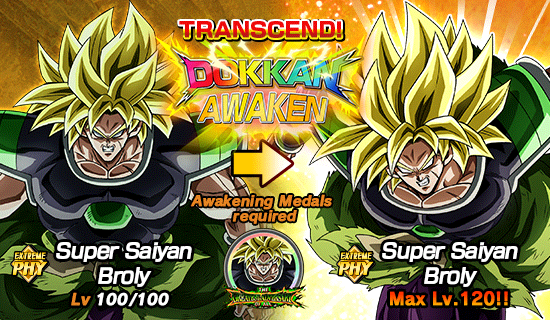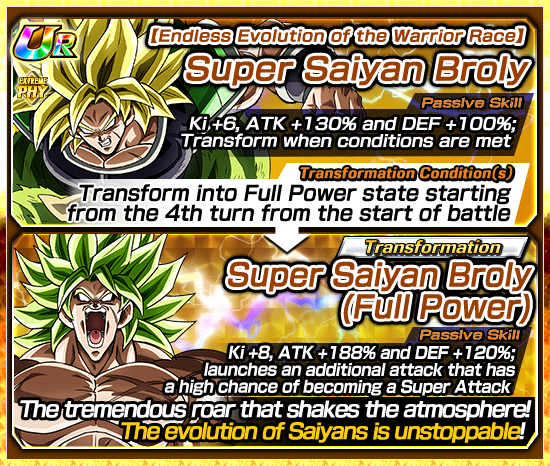 [Warrior in Exile] Broly and [Vengeful Survivor] Paragus can be Dokkan Awakened to transcend the UR limit, reaching the maximum level of 120!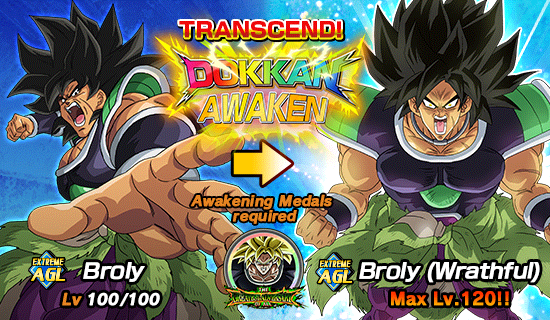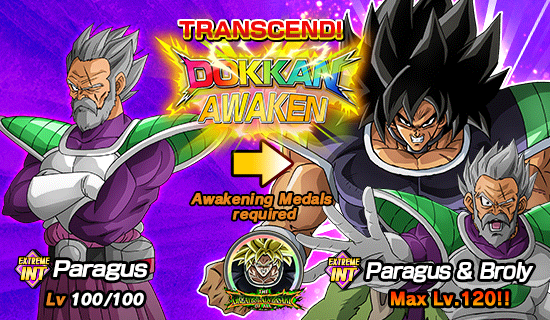 In addition, [Unusual Evolution] Broly (Wrathful) can be Extreme Z-Awakened with Awakening Medals obtained from Extreme Z-Battle!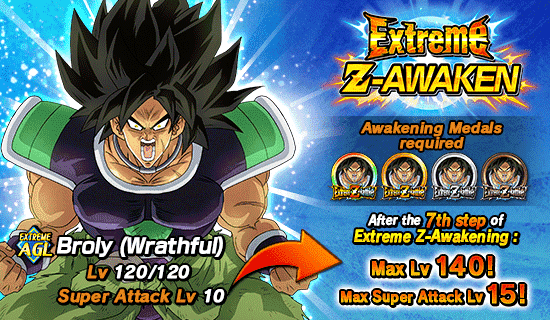 Other Rewards

One Dragon Stone will be rewarded for clearing each difficulty in Stage 1.
(2 Dragon Stones are available in total.)
* Obtaining Dragon Stones as a clear reward can only be done once.

Event Period

22:30 on Thursday ~22:29 on Friday PST 22:30 on Friday ~ 22:29 on Saturday PST
* Caution: Event Times in Dokkan Battle are listed in Pacific Standard Time (PST) instead of Pacific Daylight Time (PDT).
* During special campaigns, this event may be available outside of the time listed above.
* Please note that the event content and dates are subject to change without prior warning.
We hope you continue to enjoy playing Dragon Ball Z Dokkan Battle!