| | |
| --- | --- |
| | A Brand-New Feature Is Here! |
Somehow this brings back old memories... A brand-new Dokkan Battle has arrived!?
Mon 04/01/2019 01:00 am PDT

On 4/1 (Mon), Dragon Ball Z Dokkan Battle is introducing "Retro Mode", a new feature that will sure bring back childhood memories!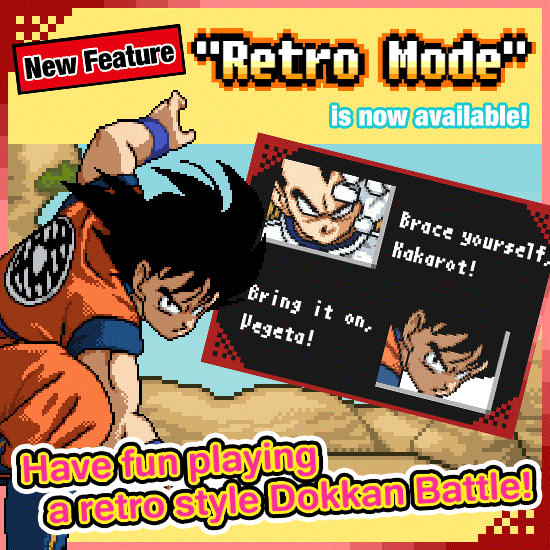 Literally, "Retro Mode" can give screens in Dokkan Battle a retro makeover!
Be it practicing Kamehameha with friends or trying out flying technique...
This feature brings back childhood memories! Read on to find out more!
= This is Dokkan Battle in All Seriousness! =
Select "Retro Mode" to have your favorite characters nostalgically pixelated!
Relive childhood memories and see this cool and playful transformation for yourself!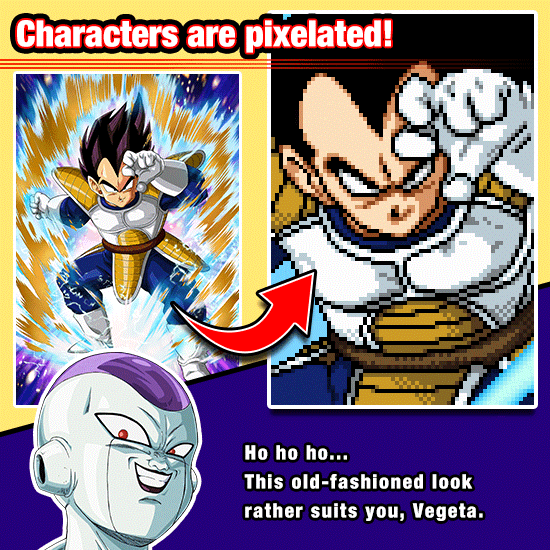 Oh my!
Upon hearing the news of "Retro Mode", Frieza has showed up!
He must be curious like you are, so let us reveal the new feature step by step!
= Quest and Event Maps are All Pixelated! =
All scenarios are of course pixelated as well!
Relive fond memories of your childhood when you sat in front of the TV immersing yourself in video games!
Come try out the events that interest you!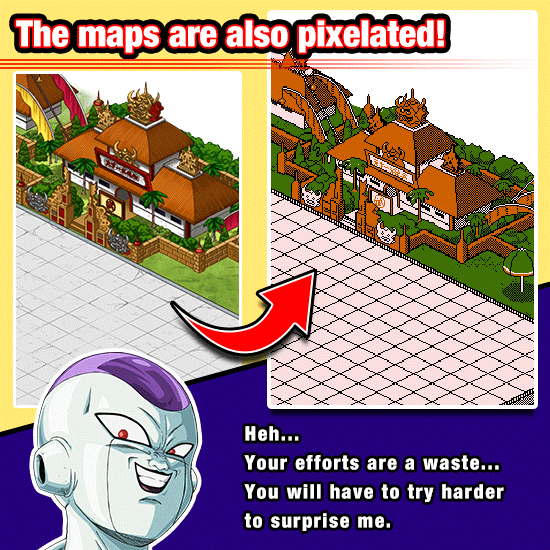 Frieza is still not satisfied. He's being so difficult! What about this then?
= Battle Backgrounds All Pixelated! =
It's super retro, just like when you used to blow into your game cartridges!
Skip loading time and play this fast and easy game of destructive battles!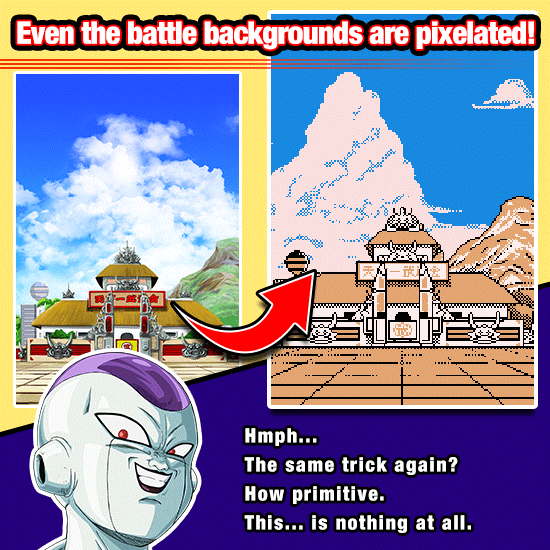 It seems that with what we've introduced about "Retro Mode" so far, Frieza still isn't satisfied...
But... it's not over yet!
= Exclusive Information! =
Here's an exclusive scoop for those who read this announcement!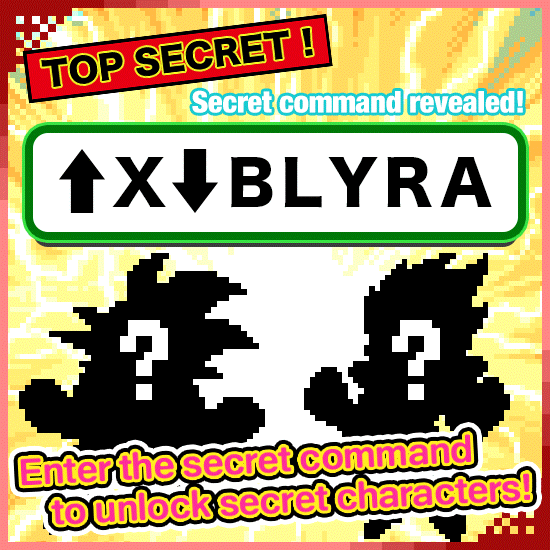 On a certain page in the game, try entering this secret command!
If you hear that character's voice, it means that you've successfully entered the command!
Use trusty characters to fight against your friends in a relentless retro battle!

Looks like Frieza is pleased with our "Retro Mode" after being given a "retro look" himself! When characters are pixelated, height doesn't matter!
That's it for the introduction. Relive your childhood memories through the brand-new feature "Retro Mode" and enjoy Dokkan Battle!
We look forward to you seeing the actual gameplay!
* Please note that the feature to be implemented is subject to change without prior warning.
We hope you continue to enjoy playing Dragon Ball Z Dokkan Battle!