| | |
| --- | --- |
| | To the Universe! Dokkan Grand Tour! |
Challenge the missions with other players! Complete the missions to collect the Black Star Dragon Balls!
Sun 07/14/2019 12:00 am PDT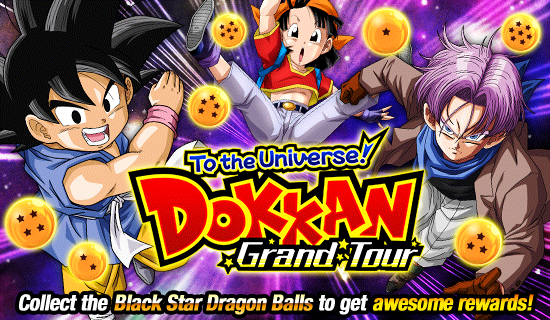 Event Period

7/6 (Sat) 16:00 ~ 7/14 (Sun) 21:59 PST
* Caution: Event Times in Dokkan Battle are listed in Pacific Standard Time (PST) instead of Pacific Daylight Time (PDT).
Complete the 7 missions to get awesome rewards!
Check the requirement and progress of the missions in the "Mission Information" section of this announcement!
Complete these missions to collect the corresponding Black Star Dragon Balls! Work together to complete the 7 missions and collect the scattered Black Star Dragon Balls!

Mission Information

Recruit and strengthen Giru!

Recruit SSR Giru from the ongoing Story Event "Desert Rescue! Giru Saves the Day!" and strengthen him!

Current Count: 4,615,912
* The applicable character of this mission is [Robot Met in Space] Giru.

Current Count: 145,014
* The following are the applicable characters of this mission: - [Robot Met in Space] Giru - [Grand Tour Companion] Giru - Enjoy Dragon Ball Z Dokkan Battle!


Current Count: 48,939,551

Current Count: 16,297,976
* Daily Missions are excluded.

Current Count: 128,636,120

Current Count: 755,576,508

Current Count: 2,495,177,269
* The progress of each mission will be updated every day at 23:00 PST starting from 7/7 (Sun).
* "Virtual Dokkan Ultimate Clash" is excluded.

Reward Distribution

The rewards will be distributed sequentially once the corresponding mission is completed.

Reward Claiming Period

Distributed sequentially upon mission completion ~ 7/24 (Wed) 15:59 PST
* Please note that the event content and dates are subject to change without prior warning.
We hope you continue to enjoy playing Dragon Ball Z Dokkan Battle!