| | |
| --- | --- |
| | Go! Dragon Ball Hunt Campaign! |
Something will happen after gathering all 7 Dragon Balls! On top of that, each collected Dragon Ball will reward you with Dragon Stones!
Tue 07/23/2019 05:00 pm PDT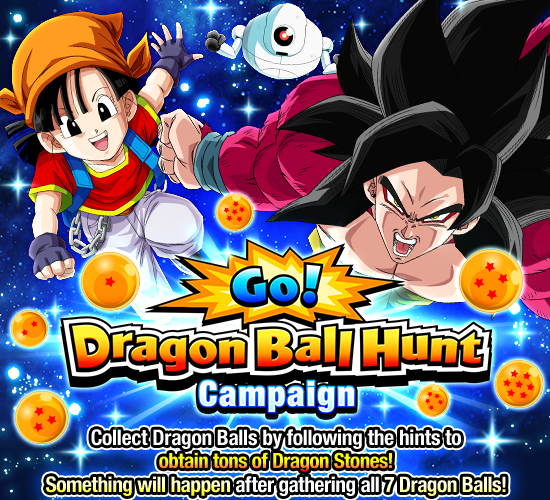 Event Period

7/22 (Mon) 16:00 ~ 8/12 (Mon) 21:59 PST
* Caution: Event Times in Dokkan Battle are listed in Pacific Standard Time (PST) instead of Pacific Daylight Time (PDT).

New Hint

One Dragon Ball will appear and a hint that leads you to it will be provided every day until 7/28 (Sun)! Follow the hints to collect the Dragon Balls!
Clear each stage of the Special Event "Wish Upon an Eternal Dragon" under a special condition to get the Dragon Balls!
You can get Dragon Stones for each Dragon Ball collected! Collect all the Dragon Balls to get a total of 28 Dragon Stones!
Something will happen after gathering all 7 Dragon Balls! See it with your own eyes!

List of Hints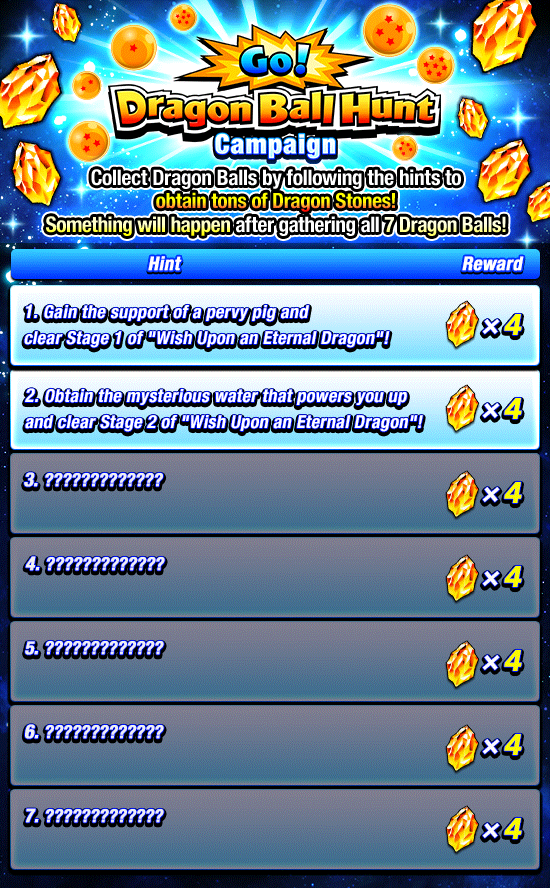 * The hints will be updated at 16:00 PST daily during 7/22 (Mon) ~ 7/28 (Sun).
* You can also check the hints through the "Shenron" button located on the main page.
* The first Dragon Ball you can obtain is the "Six-Star Ball".
* Please note the Dragon Radar won't be able to pick up any signals of Dragon Balls that haven't shown up in the game.
* You can only get Dragon Balls that can be sensed by the Dragon Radar.
* The rewarded Dragon Stones can be collected through "Mission".
* Please note that the event content and dates are subject to change without prior warning.
We hope you continue to enjoy playing Dragon Ball Z Dokkan Battle!