| | |
| --- | --- |
| | Fighting Legend: Goku Ticket Summon! |
Use "Fighting Legend: Goku Ticket" to recruit SR or SSR Goku to your team!
Wed 10/02/2019 11:30 pm PDT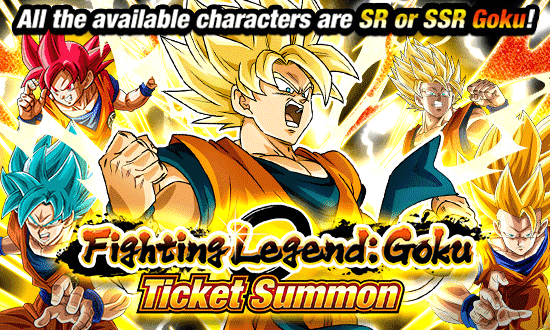 Fighting Legend: Goku Ticket Summon is now on!
All the available characters in this summon are SR or SSR Goku!
Collect tickets to perform summons!

Featured Characters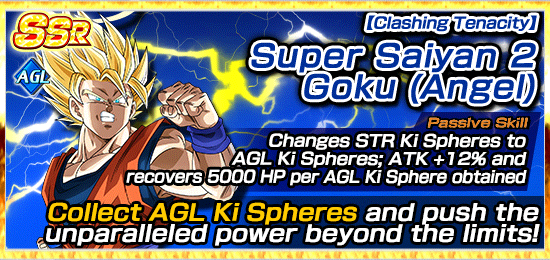 = Fighting Legend: Goku Ticket =
One Summon Ticket can be used to perform a Single-Summon, and five Summon Tickets can be used to perform a Multi-Summon!
Obtain Summon Tickets through the missions of the ongoing event "Fighting Legend: Goku", an event of extreme difficulty!
* You can recruit 5 characters by performing a Multi-Summon.
* Performing a Multi-Summon will not guarantee you an SSR character.
= Character That Can Be Awakened into LR =
[Quiet Grit] Goku
* The character above is not a featured character.
* Please note that other than the character listed above, other characters that can be Dokkan Awakened into LR will not be available in this summon.

Event Period

Permanently available starting from 2019/10/2 (Wed) 22:30 PST
* Caution: Event Times in Dokkan Battle are listed in Pacific Standard Time (PST) instead of Pacific Daylight Time (PDT).
* Please tap the "Character Summon Rates" in the top-left corner of the Summon page to check the complete list of available characters.
* The list of available characters of this summon will not be updated in the future.
* This summon will not be displayed on the "Summon" page if you do not have a "Fighting Legend: Goku Ticket".
* If you cannot see information such as "Dokkan Awakening", "Category" or "Growth" in the game, try restarting the application or tap on the "Cache Clear" button on the Title Screen.
* Please note that the event content and dates are subject to change without prior warning.
We hope you continue to enjoy playing Dragon Ball Z Dokkan Battle!