| | |
| --- | --- |
| | Warrior of Fury! Super Saiyan! |
Take on Goku as he unleashes the overwhelming power of his fury! Clear the event to collect Awakening Medals!
View Event
Thu 05/07/2020 11:30 pm PDT

The legendary warrior awakened through extreme fury!
Reign victorious in an all-out battle!

Event Details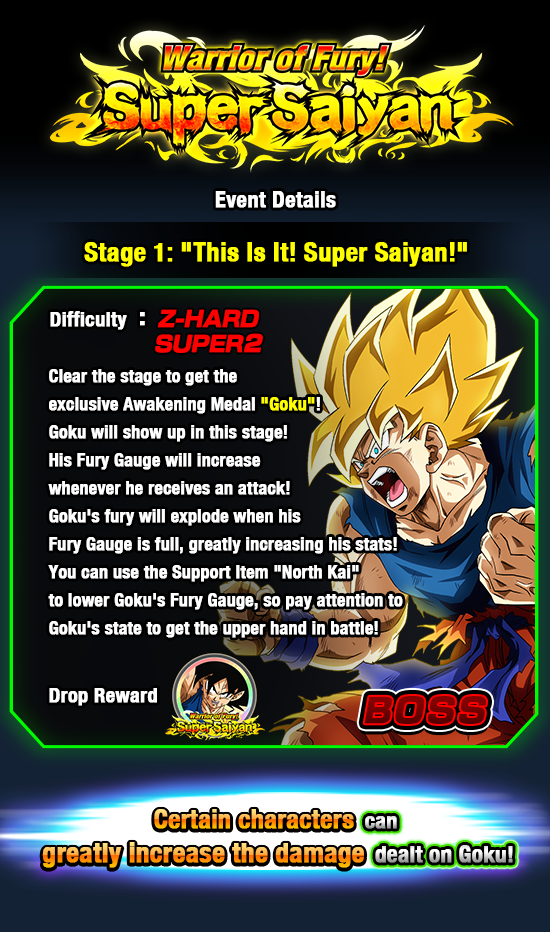 * Please tap the "Character" button to check the detailed character list.
* Goku possesses a damage reduction skill in every phase of this event.

Stay Alert in Phase 3

Super Saiyan Goku will appear in Phase 3! He will activate skills that nullify Super-Attack-sealing and stunning effects!
In addition, Super Saiyan Goku's Fury Gauge will increase every time he receives damage from a Super Attack! Once the Fury Gauge is full, Goku will explode with anger and unleash his overwhelming power!
On top of that, there is no way to calm Goku down once he becomes furious! Be careful and consider using Support Items like "North Kai" when challenging this event!
* The Support Item "North Kai" can be obtained in Stage 11 of the Story Event "Cataclysmic Clash! Final Showdown with Frieza"!
* The Fury Gauge will not be displayed in Phase 1 and Phase 2.
* Goku's rage will be displayed in the form of a "Fury Gauge".
* The Fury Gauge will not be increased by damage dealt with normal attacks.
* The remaining HP of Super Saiyan Goku will stay the same after he rages.

Boss Type Information

- Phase 1 Super AGL Type
- Phase 2 Super PHY Type
- Phase 3 Super STR Type

Dokkan Awakening

[The Final Trump Card] Goku can be Dokkan Awakened with Awakening Medals obtained in this event!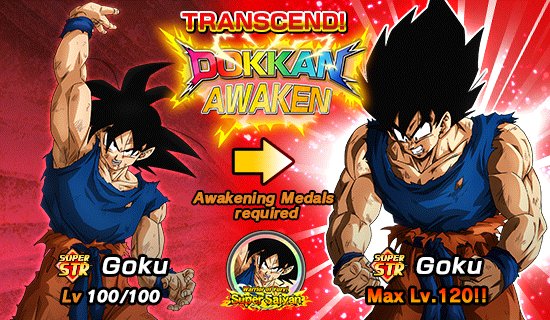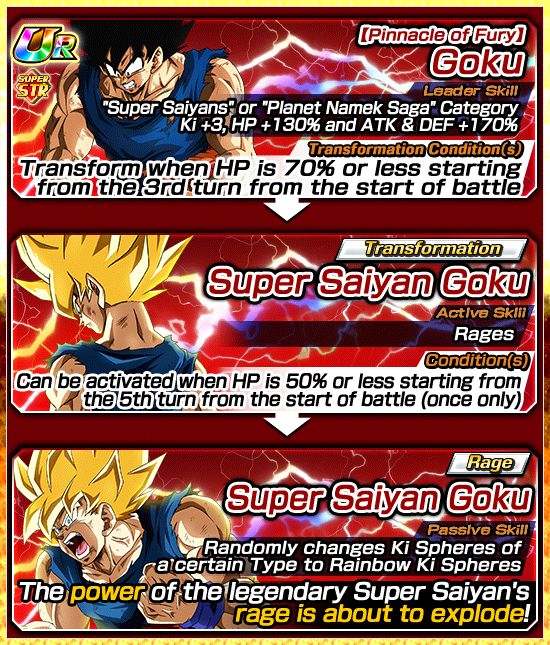 * The Active Skill of the above character is not a Transformation. The character will Rage after using the Active Skill.
In addition, [Overflowing Bloodlust] Frieza (Final Form) can also be Dokkan Awakened!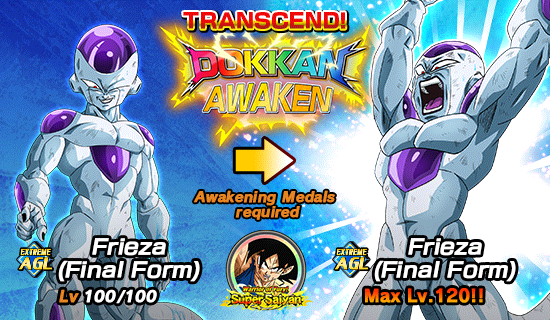 Other Rewards

One Dragon Stone will be rewarded for clearing each difficulty in Stage 1. (2 Dragon Stones are available in total.)
* Obtaining Dragon Stones as a clear reward can only be done once.

Event Period

Saturdays 22:30 ~ Sundays 22:29 PST Wednesdays 22:30 ~ Thursdays 22:29 PST
* Caution: Event Times in Dokkan Battle are listed in Pacific Standard Time (PST) instead of Pacific Daylight Time (PDT).
* During special campaigns, this event may be available outside of the time listed above.
* Please note that the event content and dates are subject to change without prior warning.
We hope you continue to enjoy playing Dragon Ball Z Dokkan Battle!