| | |
| --- | --- |
| | Dokkan Thank-You Countdown Special Missions! |
Wed 11/06/2019 04:00 pm PST

Dokkan Thank-You Countdown Special Missions are now available!
Complete the missions to obtain "Super Dokkan Fes. Ticket" and "Extreme Dokkan Fes. Ticket", and use the obtained tickets to perform summons in the upcoming "Dual Dokkan Festival Ticket Summon"!
Don't miss out on this great chance to obtain Summon Tickets!

Mission Details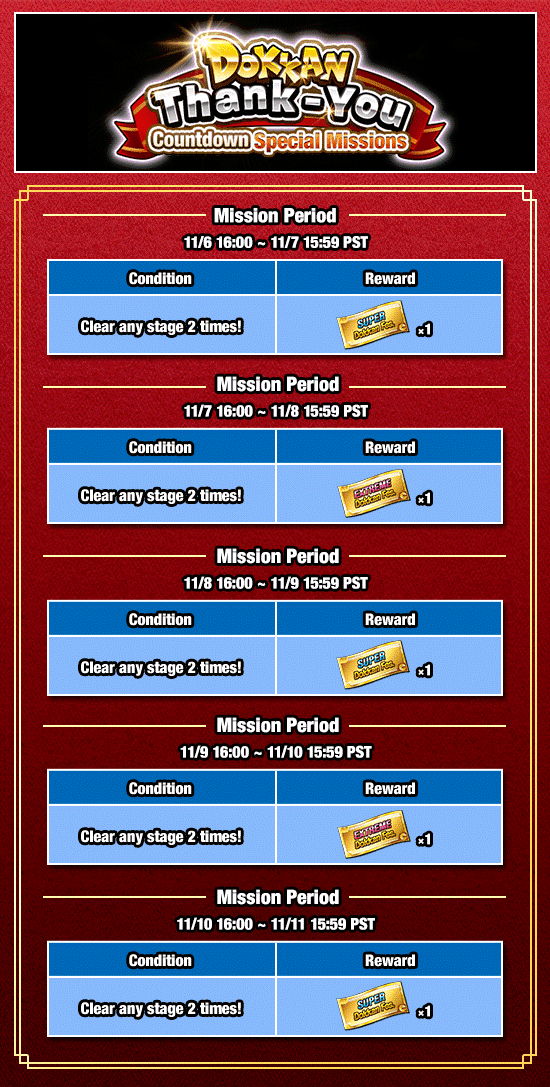 * Caution: Event Times in Dokkan Battle are listed in Pacific Standard Time (PST) instead of Pacific Daylight Time (PDT).
* Each mission can only be completed once.
* Please go to the "Special Missions" page for more information about the rewards.
* Please note that the event content and dates are subject to change without prior warning.
We hope you continue to enjoy playing Dragon Ball Z Dokkan Battle!