| | |
| --- | --- |
| | Rank Growth Packs Renewed! |
The Rank Growth Packs have been renewed! Now available for purchase at Pilaf's Trove!
Mon 07/06/2020 05:00 pm PDT

Rank Growth Packs, which will be available for purchase as you raise your rank, have been renewed!
There are 8 Rank Growth Packs in total, ranging from Rank 50 to Rank 300! Each Rank Growth Pack contains useful items for raising characters, allowing you to strengthen your team!
In addition, certain Rank Growth Packs contain "SSR Force Summon Ticket 2"!
* You are guaranteed to recruit a featured character when performing a summon in the "Power Up! SSR Force Summon".
* "SSR Force Summon Ticket 2" can be obtained from "Rank 50 Growth Pack", "Rank 200 Growth Pack" and "Rank 300 Growth Pack".
= Featured Characters of the "Power Up! SSR Force Summon" =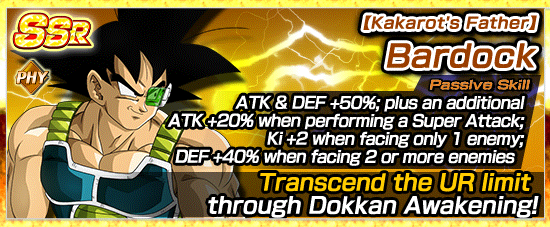 [Transcendental Saiyan Power] Super Full Power Saiyan 4 Goku [Fusion of Ultimate Rivals] Super Vegito [Perfected Strength] Ultimate Gohan [Sinister Crush] Turles [Invincible Legend of Universe 11] Jiren [Revived Emperor] Golden Frieza (Angel) [The Supreme Fusion] Super Saiyan 4 Gogeta [The Strongest Shadow Dragon] Omega Shenron [Covert Masked Fighter] Mighty Mask [Resurrection from the Seal] Boujack
* Players who have purchased the Rank Growth Packs before the renewal can still purchase the renewed Rank Growth Packs.
* The "SSR Force Summon Ticket" obtained by purchasing the previous Rank Growth Packs can only be used in the previous "Power Up! SSR Force Summon". If the "SSR Force Summon Ticket" is not used before 8/2 (Sun) 15:59 PST, it will be rendered obsolete.
* Caution: Event Times in Dokkan Battle are listed in Pacific Standard Time (PST) instead of Pacific Daylight Time (PDT).
* Please note that the event content and dates are subject to change without prior warning.
We hope you continue to enjoy playing Dragon Ball Z Dokkan Battle!