| | |
| --- | --- |
| | Upcoming Story Event Renewal! |
Tue 11/03/2020 10:30 pm PST

The Story Event "Go Forth! Hero of Justice" will soon be renewed!
Here is the first-hand information on the renewed event!
= New SSR Character Arrives! =
New SSR [Emergency Dispatch of Love] Great Saiyaman 2 arrives! Recruit her to your team and aim for Dokkan Awakening!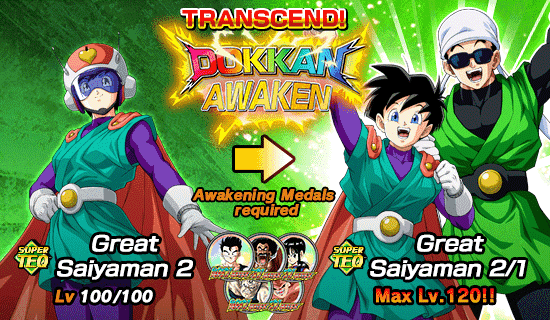 = Recruit Great Saiyaman to Your Team! =
After the renewal, you can recruit [Hero of Love and Justice] Great Saiyaman, the Dokkan Awakened form of [A New Start] Gohan (Teen), to your team!

* Please note that you will not be able to recruit [A New Start] Gohan (Teen), the above character's form before Dokkan Awakening, after the event renewal.

Event Tips

After the event renewal, your chance of obtaining bonus rewards upon defeating the boss will increase if you have "Movie Heroes" Category characters on your team!
Stay tuned for the renewed event!

Notes

* After the renewal, you can obtain a Dragon Stone as a clear reward upon clearing each stage for the first time. You can still obtain Dragon Stones as clear rewards even if you have cleared the stages before the renewal.
* Please note that after the renewal, the original event will become unavailable. The renewed event will be added to the "Portal of Memories" after the event period ends.
* Please note that the event content and dates are subject to change without prior warning.
We hope you continue to enjoy playing Dragon Ball Z Dokkan Battle!