| | |
| --- | --- |
| | Protect History! Time Patrol! |
A collaboration event of extreme difficulty is on! Reign victorious against powerful fighters and get rewards!
View Event
Thu 11/19/2020 12:00 am PST

A collaboration event of extreme difficulty is on! Powerful fighters of the Time Patrol from Super Dragon Ball Heroes are here!
Clear each phase and obtain rewards!

Event Details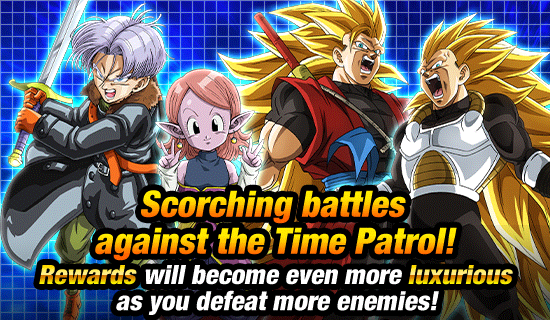 No STA is required for challenging this event, and you can bring 2 types of Support Items with you!
All the bosses possess a damage reduction skill, and they will use various techniques during battle!
Form teams you can take pride in and engage in a series of fierce battles where Continues are not allowed!

Boss Type Information

Phase 1: [Super PHY Type] Phase 2: [Super TEQ Type] Phase 3: [Super STR Type] Phase 4: [Super PHY Type] Phase 5: [Super AGL Type] Phase 6: [Super STR Type] Phase 7: [Super INT Type] Phase 8: [Super TEQ Type]

Mission Rewards

In this event, you can obtain corresponding rewards upon clearing each phase! There is also a mission that requires you to clear the event within the specified number of turns!
Take down powerful opponents to obtain rewards including Dragon Stones!

Other Rewards

One Dragon Stone will be rewarded for clearing Stage 1 on SUPER 3. (1 Dragon Stone is available in total.)
* Obtaining Dragon Stones as a clear reward can only be done once.

Event Period

11/19 (Thu) 00:00 ~ 12/7 (Mon) 21:59 PST
* Caution: Event Times in Dokkan Battle are listed in Pacific Standard Time (PST) instead of Pacific Daylight Time (PDT).
* Please note that the event content and dates are subject to change without prior warning.
We hope you continue to enjoy playing Dragon Ball Z Dokkan Battle!