| | |
| --- | --- |
| | New Story Event Coming Soon! |
Fri 01/01/2021 10:30 pm PST

Story

After Frieza's demise, Frieza's Army continued to weaken. To restore the army to its former glory, Sorbet, one of the remnants of the force, was determined to resurrect his fallen liege. Thus, he and his subordinate, Tagoma, travelled to Earth and gathered the seven Dragon Balls.
With Sorbet and company's wish granted by Shenron, Emperor Frieza had finally come back to the living...!

Event Details

Recruit new SSR [First-Ever Training] Frieza (1st Form), who can be Dokkan Awakened, to your team!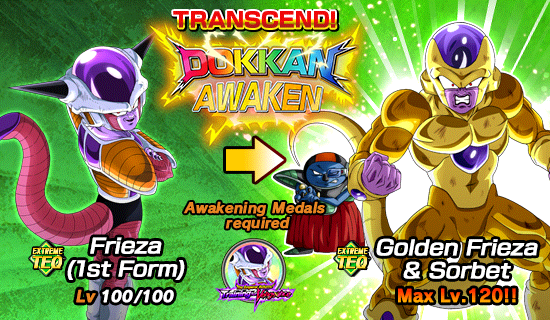 Stay tuned for more information on the new Story Event!

Event Period

Coming soon!
* Please note that the event content and dates are subject to change without prior warning.
We hope you continue to enjoy playing Dragon Ball Z Dokkan Battle!