| | |
| --- | --- |
| | Defeat the Giant Fused Fighter! Team Co-Op Campaign! |
Work as a team and complete the missions together to obtain awesome rewards including Dragon Stones and 6th Anniversary Coins!
Mon 07/19/2021 05:00 pm PDT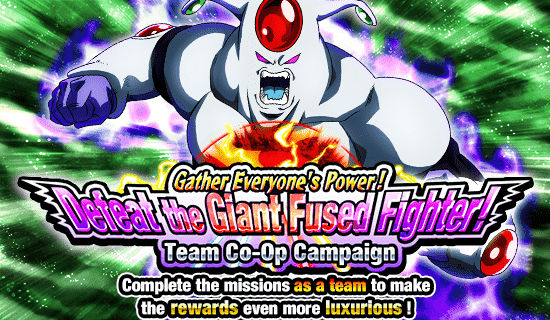 Event Period

7/19 (Mon) 16:00 ~ 7/25 (Sun) 15:59 PST
* Caution: Event Times in Dokkan Battle are listed in Pacific Standard Time (PST) instead of Pacific Daylight Time (PDT).

Reward Claiming Period

7/26 (Mon) 22:00 ~ 8/1 (Sun) 15:59 PST
* The above is the reward claiming period for the Team Mission rewards and ranking rewards.
"Gather Everyone's Power! Defeat the Giant Fused Fighter! Team Co-Op Campaign" is on!
Work as a team and gather everyone's power to defeat the fused fighter Anilaza!

Event Details

Include at least 3 "Representatives of Universe 7" Category characters on your team and clear stages from Quest or Event! Missions will be completed based on the number of stages cleared by the team!
- Fulfill the participation requirement of the Team Missions! You can only attempt the Team Missions after you complete the Personal Mission "Clear a stage under special cond. once."!
- Raise the Team Mission Reward Rank! The Reward Rank will be raised every time your team has cleared a certain number of missions! Corresponding rewards can be obtained depending on the rank reached!
- Aim to reach a higher ranking in your team! In this campaign, there will be a ranking in each team! Your ranking is decided by your contribution to your team! After the event period ends, corresponding rewards will be distributed based on your final ranking!

Team Mission Rewards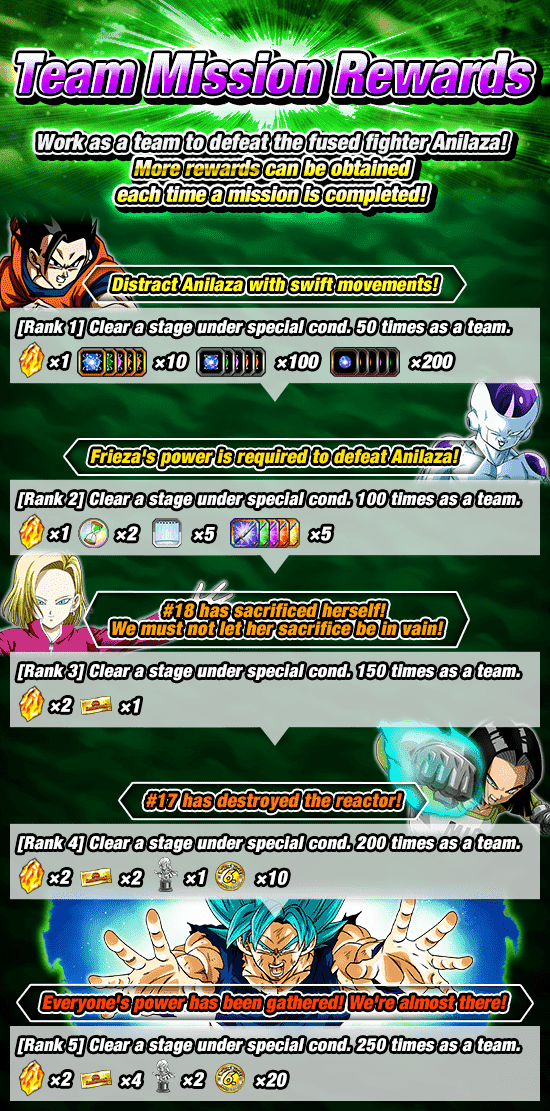 Personal Mission Rewards
Ranking Rewards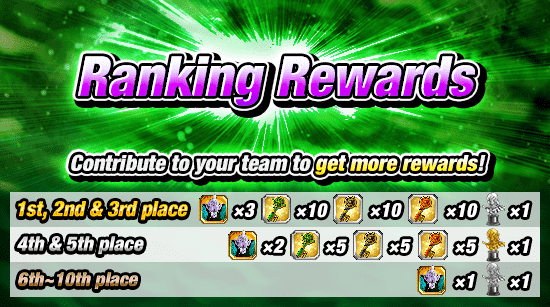 * Ultimate Clash clears are excluded from the completion conditions of missions. In addition, Friend characters are also excluded.
* Rewards of the Personal Missions can be claimed upon mission completion. Please note the Personal Mission rewards will not be sent to your Gift Box.
* Ranking rewards will not be distributed to users confirmed to have violated the Terms of Service.
* Please navigate the following path for more information on the missions or mission progress: "Home Screen" --> "Mission" --> "To Campaign Missions" --> "Personal Missions" or "Team Missions".
* Please note that the event content and dates are subject to change without prior warning.
We hope you continue to enjoy playing Dragon Ball Z Dokkan Battle!