| | |
| --- | --- |
| | To the Universe! Journey to Planet Namek! |
New missions will continue to be added until 8/25 (Wed)! Complete missions to get all the rewards!
View Event
Wed 08/18/2021 11:00 pm PDT

Event Period

8/18 (Wed) 22:00 ~ 8/31 (Tue) 23:59 PST
* Caution: Event Times in Dokkan Battle are listed in Pacific Standard Time (PST) instead of Pacific Daylight Time (PDT).

Event Details

From 8/18 (Wed) to 8/25 (Wed), missions related to this event will be added daily at 22:00 PST! Complete the added missions and obtain all the rewards!
In addition, EX Skill Orbs exclusive to the "Planet Namek Saga" Category can be obtained as mission rewards by completing the mission added on 8/25 (Wed)!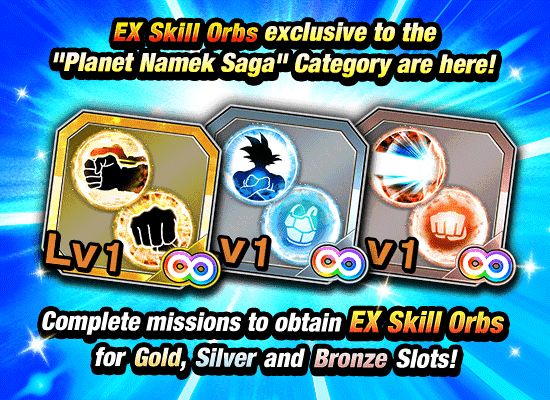 The EX Skill Orbs obtained in this event can only be equipped to "Planet Namek Saga" Category characters. In addition, they will not disappear when being replaced, so you can replace them as many times as you want.
* EX Skill Orbs cannot be exchanged for Trade Points.
* Please note if you replace a regular Skill Orb with an EX Skill Orb, the regular Skill Orb will disappear.
* Please navigate the following path for more information on Skill Orbs: "Menu --> Help --> How to Play --> Skill Orbs"
* Please tap the "Mission" button located at the stage-selection page or navigate to "Special Missions" for more details on the missions.

Stage Details
Other Rewards

One Dragon Stone will be rewarded for clearing the stage on HARD. (1 Dragon Stone is available in total.)
* Obtaining Dragon Stones as a clear reward can only be done once.
* Please note that the event content and dates are subject to change without prior warning.
We hope you continue to enjoy playing Dragon Ball Z Dokkan Battle!