| | |
| --- | --- |
| | Furious Charge! Breaking the Siege! |
Complete missions to get rewards including Dragon Stones! Defeat numerous Frieza Soldiers within a limited number of turns!
View Event
Wed 09/08/2021 11:00 pm PDT

Event Period

9/8 (Wed) 22:00 ~ 10/5 (Tue) 15:59 PST
* Caution: Event Times in Dokkan Battle are listed in Pacific Standard Time (PST) instead of Pacific Daylight Time (PDT).

Stage Details

Five stages are available in this event, and each stage corresponds to a certain Type!
You are given a limited number of turns in every phase of each stage!
The number of turns given will become fewer as you proceed, and the Frieza Soldiers will also become more powerful!
Be aware that the battle will end if the given number of turns are exceeded!

Number of Turns Given

Phases 1 to 2: 3 turns Phases 3 to 4: 2 turns Phase 5: 1 turn
"Pure Saiyans" Category characters can deal increased damage to Frieza Soldiers! However, Frieza Soldiers will reduce the damage received when being attacked by characters who are not effective against their Types!
Aim to defeat up to 25 Frieza Soldiers within the limited number of turns with characters whose Type or Categories are effective against the Frieza Soldiers!
* Frieza Soldiers will not perform actions such as attacking.
* Up to 2 types of Support Items are allowed.
* Dragon Stones cannot be obtained upon clearing stages of this event.

Missions

Missions related to this event's stages are available! The more Frieza Soldiers defeated in a single attempt, the more missions can be completed!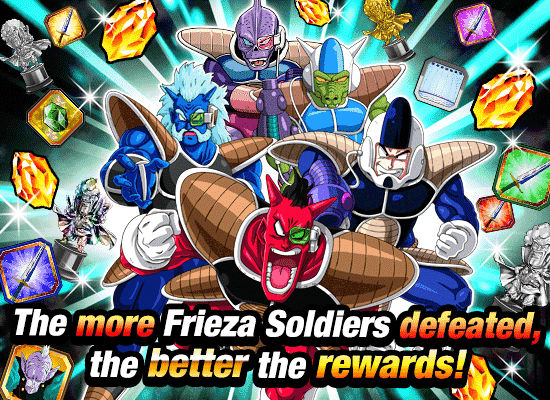 Defeat as many Frieza Soldiers as possible within the limited number of turns to obtain rewards including Dragon Stones!
* Please go to "Special Missions" for more information.
* Please note that the event content and dates are subject to change without prior warning.
We hope you continue to enjoy playing Dragon Ball Z Dokkan Battle!