| | |
| --- | --- |
| | Potential Activation Login Bonus! |
Potential Activation Login Bonus Event and a Special Mission are now on! Tons of Potential Orbs are up for grabs!
Thu 03/30/2017 05:00 pm PDT

A brand new system "Hidden Potential Activation" has now been released!
To celebrate the release of this new system, and to appreciate your awesome support and passion as well, we have prepared this Potential Activation Login Bonus Event along with a Special Mission!
Also, starting from 3/29 22:30 PST to 4/9 15:59 PST, the weekly Hidden Potential Events of all Types will be all open!
Don't miss out on this great opportunity to get Potential Orbs!

Daily Bonuses

Log in every day from 3/30 (Thu) to 4/29 (Sat) PST to get "Potential Orbs"!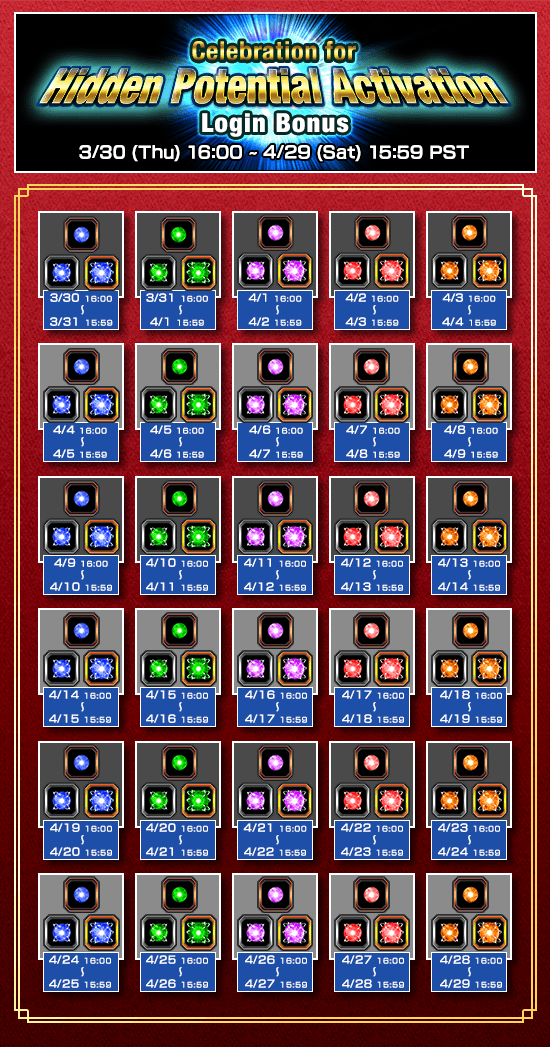 * All of the gifts will be sent to your Gift box with the description "Potential Activation Login Bonus".
* Please receive your bonuses from the Gift box.

Special Mission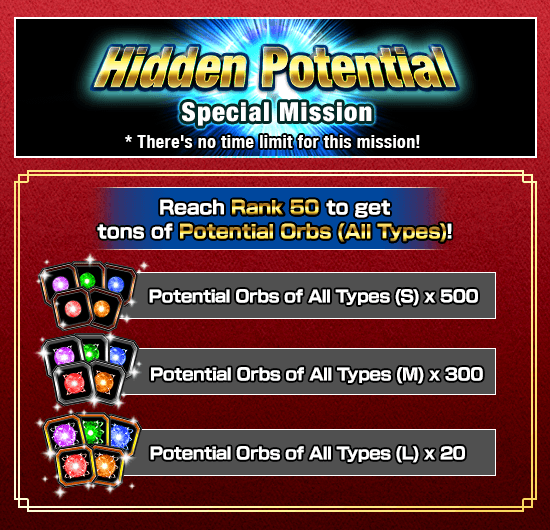 * Please go to the "Special Mission" page for more reward information.
* There's no time limit for this Special Mission.

Event Period

Weekly Hidden Potential Events All Open! 3/29 (Wed) 22:30 ~ 4/9 (Sun) 15:59 PST
Potential Activation Login Bonus 3/30 (Thu) 16:00 ~ 4/29 (Sat) 15:59 PST (30 days in total)
Hidden Potential Activation Special Mission Available since 3/29 (Wed) 22:30 PST
* Caution: Event Times in Dokkan Battle are listed in Pacific Standard Time (PST) instead of Pacific Daylight Time (PDT).
* Please note that the event content and dates are subject to change without prior warning.
We hope you continue to enjoy playing Dragon Ball Z Dokkan Battle!